A surprise dip in underlying food sales knocked shares in Marks & Spencer today.
But the British retailer said its recovery was still on track thanks to a second consecutive quarterly increase in full-price clothing sales.
M&S is battling to turn round its fortunes after falling out of fashion over the last decade. Its task is being complicated by a squeeze on UK consumer spending as inflation rises and wages growth falters.
Its chief executive Steve Rowe, a 27-year company veteran who took over in April 2016, said his strategy of reducing promotions in clothing, cutting prices for entry-level ranges and improving fit, availability and service was bearing fruit.
In clothing and homeware, the firm said full-price sales - a key guide to profitability - rose 7% in the 13 weeks to July 1, its fiscal first quarter.
This reflected 27 fewer promotions in the quarter versus a year earlier and no clearance sale.
However, same-store sales in M&S's upmarket food business fell 0.1%, below analysts' average forecast for a 0.6% rise.
Rowe said the UK consumer was "volatile - very much shopping for now and cautious with their spend."
The company's stock recently got a boost following the appointment of retail veteran Archie Norman as its next chairman.
He will succeed Robert Swannell, who is hosting his last annual shareholder meeting today and will retire in September after six years in the role.
Part of Rowe's turnaround plan is to switch some UK shop floor space from clothing to food.
M&S said in November it would close about 30 UK stores selling clothing, homewares and food and downsize or convert another 45 into food stores over five years.
Six stores were identified for closure in April and one has closed so far.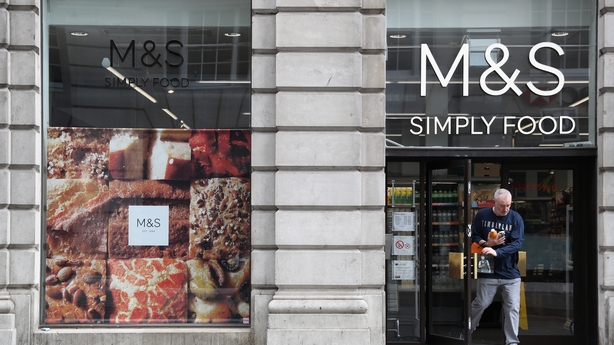 Traditionally lower margin, food contributes over half of the group's revenue and about a third of its profits, but it has been faring better recently than a clothing business hit by competition from the likes of Next, H&M and Primark.
Despite the dip in underlying food sales, Rowe said M&S was still winning share in that market.
He added the opening of new food stores had affected sales in some nearby outlets, which had weighed on the like-for-like numbers.
He also kept the group's financial guidance for its full 2017-18 fiscal year unchanged.
Like-for-like clothing and homeware sales fell 1.2% in the quarter - better than analysts' average forecast for a fall of 1.3% and a 5.9% decline in the previous quarter.
Rowe said the lack of a sale knocked about 2% off the like-for-like number, though Easter gave a boost of 0.6%.
"I would expect to see us start to move a little bit more towards a positive (like-for-like clothing) number later on in the year," he said.