The Irish grocery retail market saw its biggest growth since January in the 12 weeks to 18 June, according to new figures from Kantar Worldpanel in Ireland.
Price deflation for the period, which held steady at -0.2%, was offset by an increase in overall volume sales of 4.6%.
Kantar said the latest figures reflect the impact of Easter on consumers and retailers, with the holiday falling outside of the comparable time period in 2016.
Consumer insight director at Kantar Cora Campbell: "The grocery sector grew by €80m over the past 12 weeks – that's a 3.5% increase on the year before.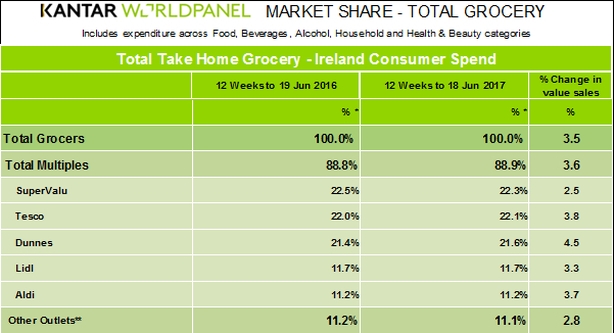 "While average pack prices are down, shoppers are choosing to take advantage of this recent period of deflation by adding more items to their baskets per trip, driving the market's overall growth.
"In the face of continuing competition the major retailers' investment in developing and improving their own brand lines is paying off.
"Overall sales of private label goods are up by 4.2% and they now account for 54% of grocery spend – the highest proportion since March this year."
The Kantar figures also show SuperValu remains the largest grocery retailer, with a market share of 22.3%.
Tesco is just 0.2% behind in second place, however, the British chain is growing ahead of the market, at 3.8%, and has closed the gap in share.
Despite a drop in shopper numbers, Dunnes Stores remains the strongest growing retailer, increasing value sales by 4.5%.
Existing customers are shopping more often and spending an additional 10% on average, increasing their average spend in the retailer by €44.50 in the latest 12-week period.
On the discount retailers, Ms Campbell said: "Lidl and Aldi have both enjoyed a strong performance over the past 12 weeks, holding market share at 11.7% and 11.2% respectively.
"Lidl's growth accelerated to 3.3% while Aldi was just ahead at 3.7%."