Nearly 249,000 enterprises were operational in Ireland in 2015, new figures from the Central Statistics Office show today.
The CSO said that almost 249,000 businesses were active in the private business economy in Ireland in 2015, with over 1.4 million persons engaged. 
This marked an increase of 4.4% in the number of businesses and 5.1% in the number of people working in these businesses on the previous year.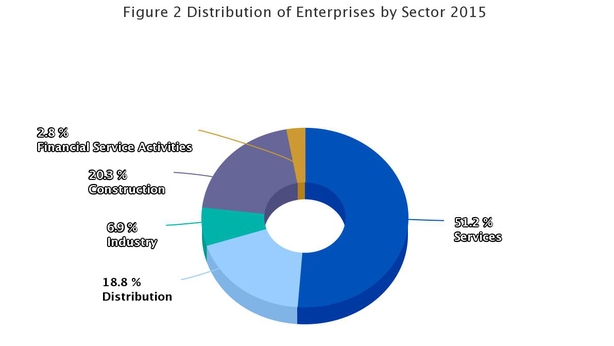 The CSO figures show that the services sector accounted for over half (51.2%) of all enterprises in 2015, with the construction sector accounting for just over a fifth (20.3%).
This compares to 2008 when the services sector accounted for 46.8% of all enterprises while the construction sector accounted for 25.4% of all enterprises.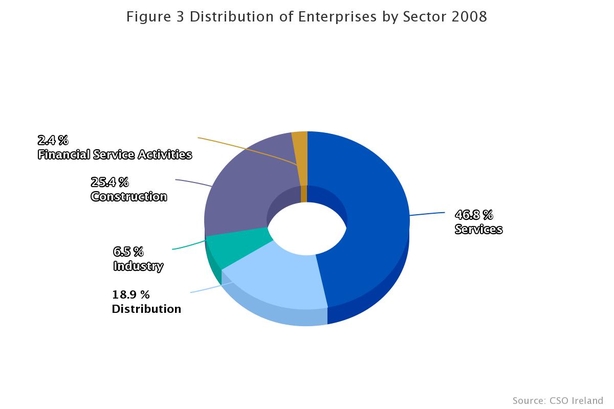 Today's figures also reveal that that the services sector accounted for 44.8% of all persons working in 2015, up from 40.1% in 2008. Meanwhile, the Construction sector accounted for 7.7% of all persons working in 2015, down from 12.6% in 2008.
Small and medium sized enterprises accounted for 99.8% of the total enterprise population for 2015. They also accounted for 69.1% of total people working.
However, large enterprises (employing 250 or more persons) employed 30.9% of persons engaged, despite accounting for only a small fraction of total enterprise numbers. 
The CSO said that there were 18,100 new enterprise "births" in 2015, an increase of over 11% on 2014, while these new businesses employed a total of 22,738 persons. 
It noted that there were less enterprise births in 2008 (15,444) but a slightly higher number of persons engaged (22,872) in these new enterprises.
The largest numerical increase in the number of enterprise births was in the construction sector which increased by 700 from 3,526 in 2014 to 4,226 in 2015. 
Meanwhile, the financial service activities sector experienced the highest percentage increase (30.1%) between 2014 and 2015.
But over 15,000 enterprises ceased during 20147, resulting in a loss of over 22,000 jobs. This represented 16.3% less enterprise deaths than 2013, the CSO said.