There was a 4% drop-off in the number of visitors to Ireland from the Britain between March and May, when compared with the same period in 2016.
The data does not take into account visits from Northern Ireland.
There were 950,300 trips made by UK residents from March to May, down from 990,400 for the same time frame a year ago, new figures from the Central Statistics Office show.
Tourism Ireland says the drop in the value of sterling against the euro has presented a "currency challenge" for tourism into the country.
The organisation's CEO, Niall Gibbons, said: "As anticipated, the currency challenge for Irish tourism is very real and the drop in British visitor numbers (-6.8%) for the January to May period reflects that.
"The decline in the value of sterling has made holidays and short breaks here more expensive for British visitors; and economic uncertainty is undoubtedly making British travellers more cautious about their discretionary spending.
"This is impacting on travel to Ireland. Therefore, competitiveness and the value for money message are more important than ever in Britain right now."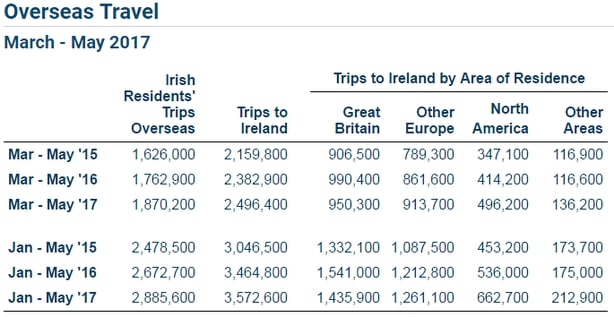 However, the number of British visits here was still higher than for the corresponding periods in both 2014 and 2015.
Overall, the number of overseas visits into Ireland between March and May was up by 4.8% to 2,496,400, when compared with the same three months last year.
This figure was boosted by a 19.8% jump in the number of North American visits to 496,200, while visits from 'other areas' were 16.8% higher at 136,200.
When comparing the first five months of this year and 2016, the CSO data show the number of overseas trips into Ireland was up by just over 3% to 3,572,600.
Meanwhile, the total number of overseas trips made by Irish residents during the March-to-May period increased by 6.1% to 1,870,200.
Mr Gibbons said it is "encouraging that this was the best ever month of May for Irish tourism. Particularly welcome is the continued strong performance from North America, with an increase of +23.6%.
"Tourism Ireland has prioritised North America for 2017, as a market which offers a strong return on investment, in terms of holiday visitors and expenditure.