House prices nationally rose by 11.2% in the year to June, according to a new report from the Real Estate Alliance (REA).
The REA Average House Price Survey - which concentrates on the sale prices of three-bed semi-detached homes (the country's typical stock home) - places the average price of such a property at €215,269.
The findings of the study tally with recent figures from both the Central Statistics Office and property website Daft.
Earlier this month, the CSO said residential property prices rose by 10.5% in the year to April, and Daft recorded a 9.4% rise in prices between the first quarter of this year and the same period in 2016.
The CSO data is based on Revenue stamp duty returns, whereas Daft bases its figures on asking prices for properties.
Notably, today's statistics from the REA also suggest the selling times for homes have reduced by more than half in certain areas in the past year.
The study says REA agents in areas of south Dublin such as Tallaght, Clonskeagh, and Dun Laoghaire are reporting that properties that took seven weeks to sell a year ago, are now moving to sale agreed in around three weeks.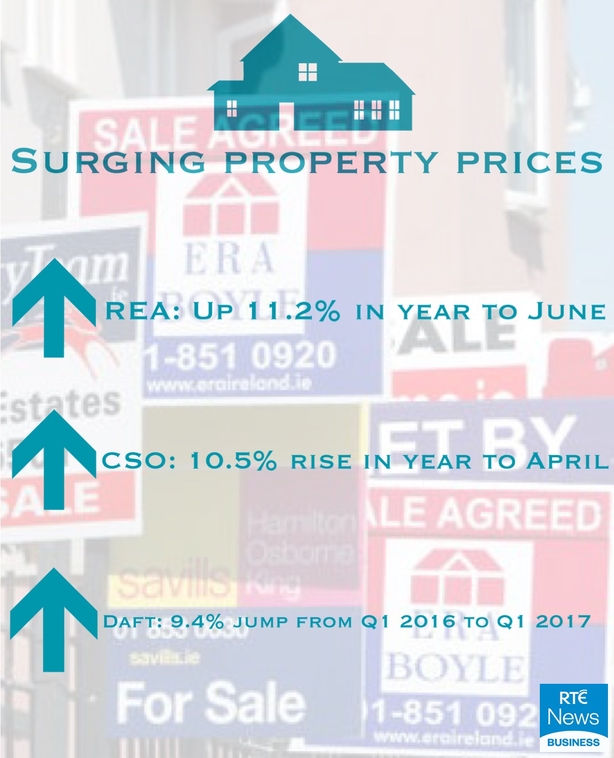 The REA also claims new developments on sale in small pockets of the country have had an impact on the price and demand for second-hand properties locally.
REA spokesperson Healy Hynes said: "Agents have been reporting that where there are new homes available, the price of second-hand properties has been under pressure.
"Most of our national housing stock is over a decade old, and house purchasers - especially first-time buyers - will opt for new builds at a higher spec, even if there is a marked difference in price.
"Our agents are also reporting that both purchasers and three-bed semi vendors are looking for larger homes, which is having an adverse effect on the supply chain, with the result that time taken to sell is now four weeks on average in Dublin and the major cities, and as low as three in some parts of the capital."