New figures from the Central Statistics Office show the seasonally adjusted trade surplus slumped by 34% in April from the previous month as exports fell by 12%.
The CSO said the trade surplus fell to €3.392 billion in April from the record balance of €5.162 billion seen in March.
Today's preliminary figures show that exports decreased by 12% to €9.555 billion in April, while imports rose by 9% to €6.164 billion.
The figures show that exports of organic chemicals fell by 16% to €1.755 billion in April, while exports of medical and pharmaceutical products rose by 18% to €2.836 billion.
They also show that imports of chemicals and related products increased by 43%, while imports of office machines rose by 20% to €300m.
The CSO said that exports to Britain rose by 33% to €1.385 billion in April compared with the same time last year. Meanwhile, imports from the UK increased by 10% to €1.358 billion.
The European Union accounted for 49% of total goods exports in April of this year, down 7% on the same month in 2016. The CSO noted that exports to Germany were worth €781m, while exports to Belgium totalled €711m.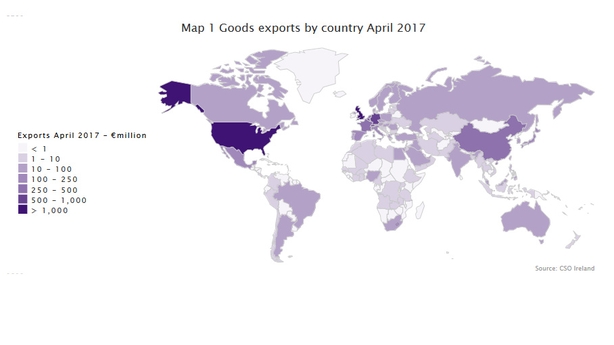 Meanwhile, the US was the main non-EU destination as it accounted for 27% of total exports.
On imports, the EU accounted for 62% of the value of goods taken into the country in April. The US and China were the main non-EU sources of imports.
But despite the weaker figures for April, the country's exports started the year on a strong footing, and are up almost 13% in the first four months of this year when compared to the same time last year.
Commenting on today's figures, Merrion economist Alan McQuaid said the timing of Easter this year could could have had an impact on April's trade surplus figure.
He noted that for 2016 as a whole, the surplus has been revised down to €45.429 billion from €45.521 billion, but it was still a record high and €3.133 billion greater than the previous record surplus of €42.296 billion in 2015.
The UK is the second largest single-country for Ireland's goods and the largest for its services and Mr McQuaid said that while one can only speculate as to how Brexit will impact Ireland in the future, there is clearly likely to be a negative impact on trade.
"The trade outlook going forward remains clouded in uncertainty, but we are still anticipating another solid performance this year. Indeed, based on the very positive start to 2017, with the trade balance in the first four months running €2.6 billion above that of the same time last year, another record surplus now looks on the cards of around €49-50 billion," he added.