Tesco, Britain's biggest retailer, reported its strongest quarterly sales performance for its home market in seven years today as it navigated an increasingly inflationary trading environment.
Tesco, which in January agreed to buy wholesaler Booker for £3.7 billion, said UK like-for-like sales rose 2.3% in the 13 weeks to May 27, its fiscal first quarter.
This marked the sixth quarter of growth in a row.
The outcome was ahead of analysts' forecasts, in a range of up 1.7-2%, and built on growth of 0.7% in the previous quarter.
Tesco said total group like-for-like sales rose 1%.
The company said that like-for-like sales in Ireland grew by 0.2%, which it said reflected the deflationary effect of its ongoing investment in core food lines.
Irish volumes grew strongly at 3.8%, including 5.3% growth in fresh foods, it added.
The company also reported a small improvement in its performance in Europe, driven by strong growth in the Czech Republic and Slovakia.
"This is a good start to the year," Tesco's chief executive Dave Lewis said.
"We are confident in our plans to create long-term, sustainable value for our key stakeholders and to deliver on the ambitions we have set out," he added.
Lewis has been leading a fightback after Tesco's profits were hammered by changing shopping habits, the rise of German discounters Aldi and Lidl and an accounting scandal in 2014.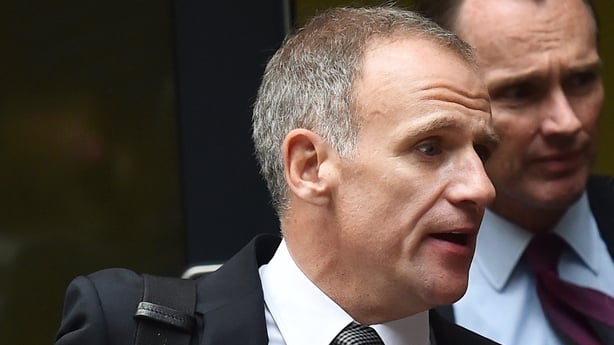 He stabilised the business and then got it growing again with a focus on lower prices, new and streamlined product ranges, better customer service and improved supplier relationships.
Shares in Tesco are up 19% year-on-year. But they are down 13% so far in 2017, reflecting concerns about a deteriorating consumer environment in Britain.
The retailers are battling a rise in inflation, caused in large part by the fall in the pound since last year's vote to leave the European Union, and by a slowdown in wages growth.
UK retail sales fell more sharply than expected in May, official data showed today, while data earlier this week showed British workers' earnings after inflation shrinking at the fastest pace since 2014.
However, analysts reckon Tesco is not passing on as many cost increases to shoppers as its competitors, as it is increasingly able to leverage its scale.
Before today's update, analysts' average forecast for Tesco's 2017-18 operating profit before exceptional items was £1.46 billion, according to Reuters data, up from £1.28 billion pounds in 2016-17.