Often outspoken European Central Bank rate setter Ewald Nowotny has questioned the ECB's most sacred tenet - its inflation target.
Euro zone inflation has been low for years and the ECB is not expecting to achieve its objective of a rate near 2% for at least another two years.
This is despite spending €2.3 trillion on bond purchases and pushing interest rates below zero.
Speaking at a conference packed with current and former ECB policymakers, Nowotny asked whether adopting an inflation range, rather than a specific target, would make more sense in a situation where price growth is low for a long time.
"Could you foresee that in such a situation there would be an easing or broadening of the inflation goal in the sense of setting a range instead of a clear-cut target?" Nowotny asked at an event organised by Germany's Bundesbank.
Any such move would allow the ECB to dial back its stimulus measures earlier, pleasing critics in Germany and other northern European countries, who fear the ultra-easy policy is creating bubbles.
But it would potentially make funding more expensive for indebted governments in the south of the bloc, such as Italy and Portugal.
Economists have long wondered whether the historically low inflation rates seen in the euro zone and Japan were due to factors beyond central banks' reach, such as an ageing population and structurally high unemployment.
But the very notion of abandoning its inflation target has been anathema to ECB rate setters, who fear any mention of it would dent its credibility with investors.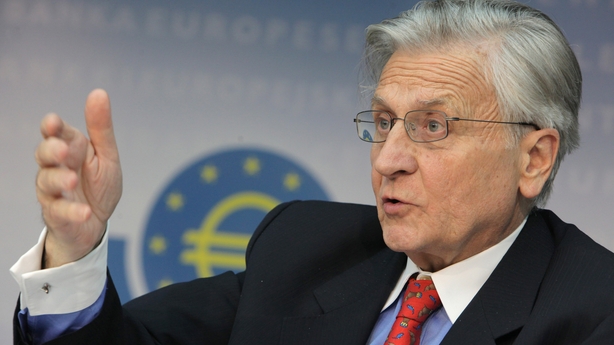 "We need more than ever very solid anchoring of long-term inflation expectations," former ECB president Jean-Claude Trichet said. "We are still in an extremely dangerous situation."
ECB President Mario Draghi had batted back a similar question at a news conference last week, saying the ECB was confident inflation would hit its objective once unemployment falls.
But Japan's former central bank governor Masaaki Shirkawa, who also battled with ultra-low inflation during his five-year tenure ending in 2013, expressed some sympathy for Nowotny's argument.
"My worry with setting a precise number is that it can crowd out other very important considerations, such as financial stability," Shirkawa said, speaking at the same conference.
Tasked by European Union treaties to maintain price stability in the euro zone, the ECB has fine-tuned its target in the past.
It initially set its objective as an inflation rate "below 2%" in 1998 but five years later it changed it to "below, but close to 2% over the medium term".