Irish construction firms have more than doubled their spending on UK imports amid the pound's weakness in 2017.
According to analysis by FEXCO Corporate Payments, Ireland's building firms have spent 152% more on UK goods and services through May than they did in the first five months of 2016.
FEXCO facilitates international payment solutions and analysed 1,304 transactions made by its currency dealers on behalf of Irish construction sector importers.
The frequency of UK imports purchased by Irish construction firms has also risen.
FEXCO's analysis says the number of transactions rose by 13.5% and that the average transaction size more than doubled from €5,729 in the first five months of 2016 to €12,382 in the same period in 2017.
The construction industry is facing a situation where demand for both commercial and residential property exceeds supply.
"Buoyed by rising confidence, Irish building firms are understandably cashing in on sterling's weakness by snapping up imports from the UK", Head of Dealing at FEXCO Corporate Payments David Lamb said.
During the first five months of 2017, one euro was worth an average of 85.7p compared to an average of 77.7p between January and May 2016.
Builders may be turning to UK imports to take advantage of favourable pricing, but Mr Lamb offered another possible motive as well.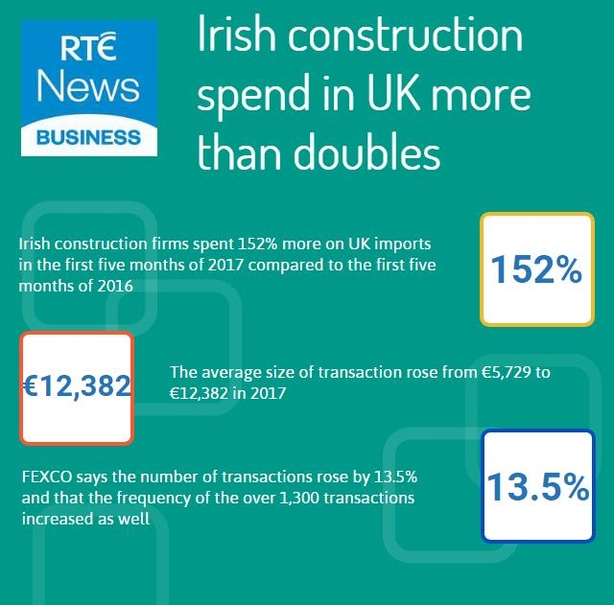 "Compared to this time last year, British goods and services are a bargain for Irish builders – but also an attractive way to offset rising cost pressures at home", he said.
A May study by construction consultancy firm Turner & Townsend listed Dublin as the eighth most expensive city for builders in the world.
The study predicted a shortage of skilled labour would drive costs of construction up a further 8% in the upcoming year.
A skills shortage may force up Irish construction sector wage bills. In that case, Mr Lamb predicts cheap UK imports could prove "a vital safety valve" for builders.
With the political unpredictability of the upcoming UK general election and the beginning of Brexit negotiations, Mr Lamb provided words of caution.
"Irish builders who import regularly from Britain should consider locking in the current favourable exchange rate by using a forward contract", he said.