An Post has reported a €15.6m pre-tax loss for the year on the back of higher costs and lower volumes of mail.
An Post said that revenues of €825.7m were in line with the previous year of €826.1m and came after "strong performances" by its subsidiary companies, general election mail revenue and a 3% price increase.
An Post noted that in the six weeks since the price increase, there has been no indication of any additional acceleration in mail volume decline.
The company said its costs grew by €18.4m to €839.3m last year due to one-off costs and the impact of the Labour Court pay increase of 2.5%. This cost it €8.9m in 2016.
An Post said that letter volumes were down 5.2% last year as consumers continued to move away from traditional letters and cards to electronic communications.
It noted that since 2007 - and in line with global trends - letter volumes in Ireland have fallen by 40%.
An Post said it incurred a loss of €41.3m in delivering its Universal Service Obligation in 2016.
Revenue at post offices declined by €2.5m last year to €161.8m. Welfare payments continue to reduce as unemployment levels decrease.
An Post also said the move to electronic transfer is replacing cash transactions with BillPay transactions decreasing by 14%.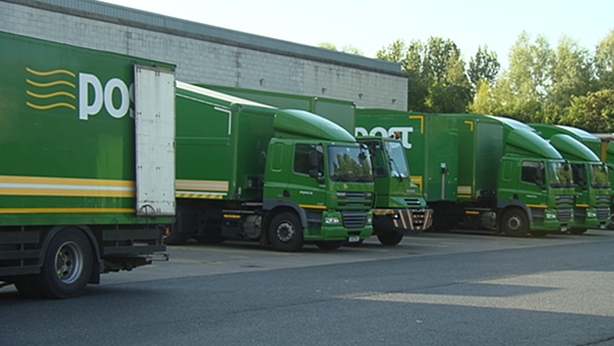 However, An Post said that growth from products such as PostFX rose by 7% and banking transactions were up 4.6%. It said this shows the potential for expanded financial services at the company.
It also said that key growth areas include the burgeoning parcels market from increased online shopping; premium mail growth especially direct mail and an increased range of financial products in the Retail business.
An Post chief executive Mr McRedmond said he was confident that the company has stabilised its immediate-term finances through the recent price adjustment.
He added that it had done the detailed work to design sustainable strategies for both the Mails and Post Office businesses.
"The results for 2016 show that the direction of travel for An Post needs to change. The digital world is closing one door with e-substitution of mails and online banking, while opening another into the world's largest industry of shopping through e-commerce," Mr McRedmond added.
"An Post is committed to providing a vital public service and to being a responsible employer, but the business will need to achieve a step-change in costs to ensure its mid and long-term financial viability," he stated.