International healthcare services provider UDG Healthcare has reported pre-tax profits of $52.9m for the six months to the end of March, up 19% on the same time last year.
Revenues for the six month period were up 8% to $578.9m as the company said it was well positioned to deliver continued growth both organically and through strategic acquisitions.
The company also announced a 5% increase in its interim dividend to 3.58 cent per share.
"The first half of 2017 has been another very progressive period for UDG Healthcare, with strong growth delivered and continued progress made in pursuit of the group's strategic objectives," commented its chief executive Brendan McAtamney.
"The group is increasing its guidance for constant currency diluted earnings per share (EPS) for the year to 30 September 2017 by 2% to a range of between 15% and 18% ahead of last year," he added.
UDG had said last year that from the beginning of the new financial year on 1 October 2016, it would change its reporting currency to US Dollar. Today's results are its first set presented in dollars.
Breaking down its divisions, UDG said that net revenues at its Ashfield business grew by 12% to $289m, while operating profits were up 18% to $36.4m.
Ashfield Commercial and Clinical generated "good growth" in the six months, mainly due to a strong performance in North America, which the company said was driven by increased activity levels with one client. 
Its European business also showed good growth, with especially strong growth in Germany.
Ashfield Communications also saw strong half year growth, with last year's acquisitions of STEM and Pegasus boosting its performance.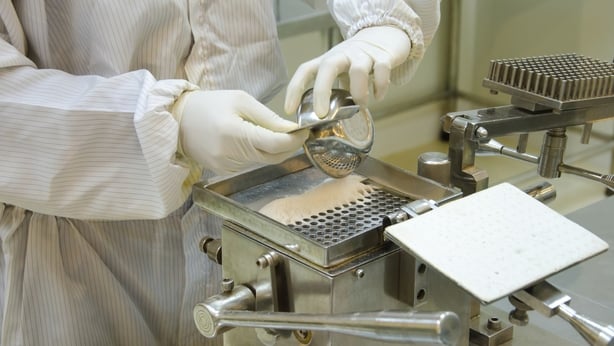 Total half yearly revenue at its Sharp business rose by 5% to $152.7m, while operating profits were up 8% to $19.2m.
The company noted that Sharp US delivered good growth during the period and said that its underlying trading performance was evident across all packaging formats was good, with biotech especially strong.
Meanwhile, the development pipeline at Sharp Europe continued to improve and the group remains increasingly optimistic about prospects for the business. 
But UDG said that due to the longer lead times needed in packaging services, the group said it does not anticipate a significant improvement until 2018 and 2019.
Half yearly revenues at its Aquilant business fell by 14% to $46.3m while operating profit was down 11% to $3.2m mainly due to adverse currency translation movements. 
Brendan McAtamney said today that UDG Healthcare could spend up to $600m for acquisitions, after the company raised its full-year earnings estimate as a recent acquisition helped prop up profit in the first half.
           
"We've looked at acquisitions - small $20m ones right up to $200-$300m - and in total, the consideration we could use is $500-$600m," the CEO told Reuters.
           
The Dublin-based company said strong performance at its recent acquisition, STEM Marketing - a provider of commercial, marketing and medical audits to pharmaceutical companies - helped boost profit in the first half. 
The company now expects a 15-18% increase in diluted earnings per share, on a constant currency basis, for the year ending September 2017.
The group had earlier forecast a 13-16% growth in full-year EPS.
           
Brendan McAtamney said UDG would look to acquire US-focused businesses to strengthen its Sharp Packaging Services unit, which is engaged in contract packaging and clinical trial packaging services for the pharmaceutical and biotechnology industries. 
UDG is also keen on bolstering its Ashfield operations in Japan through acquisitions, he said.