Minister for Finance Michael Noonan has said he does not wish to be considered for a position in the Cabinet by Enda Kenny's successor.
Mr Noonan, 73, said he will continue in his role until a successor is appointed, which is likely to happen next month.
"I have been honoured to serve as Minister for Finance since March 2011 and have introduced six annual budgets and one supplementary budget," he said in a statement.
"I believe now is a good time for a new Finance Minister to take up office. Ireland is the fastest growing economy in Europe, the budget is almost balanced and we are on the cusp of full employment," he added.
Finance minister Michael Noonan announces decision to retire pic.twitter.com/aVJ6PI1Z78

— RTÉ Business (@RTEbusiness) May 18, 2017
Mr Noonan added that he will not contest the next general election.
From Limerick, Michael Noonan was first elected to the Dáil in 1981.
His statement today ends a six year term in which he saw the dramatic recovery of the economy after a banking collapse.
He oversaw Ireland's exit from a three-year European Union-International Monetary Fund bailout and the country has posted the fastest economic growth in the European Union for the past three years.
Mr Noonan may still oversee the flotation of AIB, which he said could happen in the coming weeks. This would mark another landmark in the banking sector recovery.
. @davidmurphyRTE assesses Michael Noonan's role as finance minister pic.twitter.com/DnEQwPVWEn

— RTÉ Business (@RTEbusiness) May 18, 2017
Meanwhile, the country's unemployment rate has fallen to 6.2% from over 15% in 2012 and the Government is forecasting a deficit of 0.4% of GDP this year.
Mr Noonan has been a minister in every Fine Gael-led government since 1982, serving in the cabinets of Garret FitzGerald, John Bruton and Enda Kenny.
Michael Noonan was Minister for Justice from 1982 to 1986 and then held two different ministerial posts between 1986 and 1987, that of Minister for Industry, Commerce and Trade and Minister for Energy respectively. 
He was the Fine Gael front bench spokesperson on Finance from 1997 to 2001 and was Minister for Health between 1994 and 1997.
Mr Noonan was appointed leader of the Fine Gael party from February 2001 until May 2002 and served as Fine Gael's Finance spokesperson in July 2010. 
He was appointed by outgoing Taoiseach Enda Kenny as Finance Minister in March 2011.  
Brendan Howlin, leader of the Labour Party, said that after working closely with Michael Noonan over "five difficult years", he had learned to admire Mr Noonan's political skills and respect his manifest competence.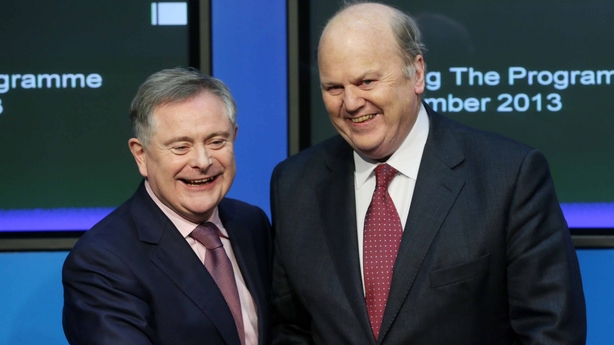 Fianna Fáil's Finance spokesperson Michael McGrath said he wanted to acknowledge the significant role Mr Noonan has played in public life and in managing the Irish economy.
"He rightly deserves credit for managing a successful exit from the Troika programme. He will no doubt be satisfied about the state of the Irish economy he is leaving, which while not without significant challenges, is generally performing well," Mr McGrath said.
Meanwhile, Chartered Accountants Ireland said that Minister Noonan has made "an enormous contribution" to Ireland's tax policy, both in terms of domestic taxation and in terms of the country's international reputation.  
"His willingness to cooperate with efforts to reform taxes internationally under OECD Initiatives, as well as his robust defence of Ireland's position on EU proposals such as the Common Consolidated Corporate Tax Base and Financial Transactions Tax, helped advance Ireland being seen as a transparent tax jurisdiction," a statement from the group said.