A 16% fall in seasonally adjusted imports in March saw Ireland's trade surplus rise by more than €550m to €5.05 billion.
Latest figures from the Central Statistics Office show the seasonally adjusted value of exports during the month dropped by €426m (-4%) to €10.15 billion during the month, however, seasonally adjusted imports saw a 16% fall to €5.1 billon, leaving the country's trade surplus at €5.05 billion for March.
Exports of medical and pharmaceutical products increased by €720m (+30%) to €3.09 billion in March when compared with the same month last year, while exports of electrical machinery, apparatus and appliances increased by €350m (+60%) to €93m.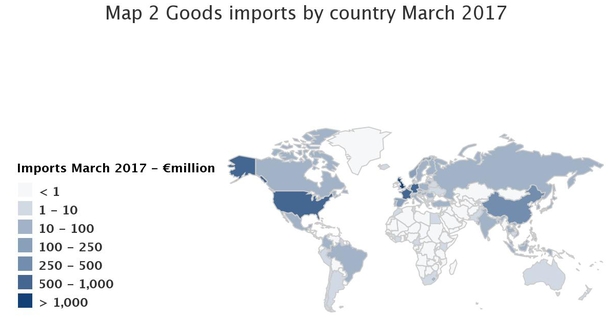 On the imports side, petroleum imports were 65% higher at €128m, while car imports fell by 17% to €307m.
According to the CSO, imports from Great Britain rose by 6% to €1.37 billion in March, when compared with the same month in 2016, but British exports dropped by 1% to €1.13 billion.
Breaking down the destination for Irish exports geographically, the European Union accounted for nearly half (€5.45 billion or 49%), with the United States being the country's main non-EU destination, accounting for 27% - or just under €3 billion of Irish exports.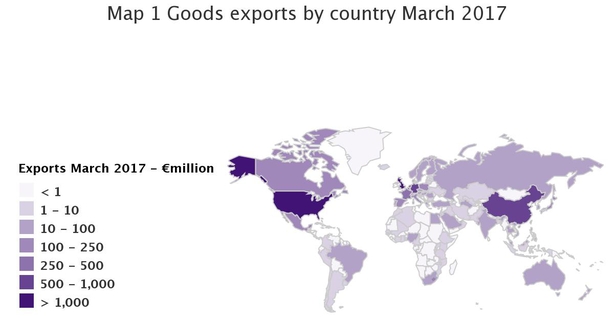 Meanwhile, Ireland imported 64% (€3.74 billion) of its goods and services from the EU in March, while the US accounted for 13% and China 6%.