Growth in exports to the UK slowed from 12% in 2015 to 2% last year in companies supported by State body Enterprise Ireland.
Overall sales globally grew by 6% last year to €21.6 billion.
"The fact that the growth of exports to the UK have slowed suggests that the impact of Brexit on Irish companies has already started," commented Julie Sinnamon, the chief executive of Enterprise Ireland.
The slowdown in growth to Britain was largely caused by a small decline in food exports.
. @davidmurphyRTE assesses @Entirl figures showing slowing growth in Irish exports to UK pic.twitter.com/gyq9lLWqN1

— RTÉ Business (@RTEbusiness) May 15, 2017
Sales to UK have also been affected by a drop in sterling.
While the volume of goods sold to the UK is up, the amount of money exporters received fell due to the drop in sterling. The British pound dropped significantly after the Brexit referendum last June.
It is expected that the impact on exporters to the UK will be bigger in 2017 as companies face a full year of currency volatility.
"Companies cannot afford to wait until the Brexit negotiations conclude - they must act now," Julie Sinnamon said.
She said that while diversifying from the UK might have been a desirable objective for Irish companies in the past, Brexit had made it more urgent.
In light of @Entirl stats, this Feb explainer using mushrooms shows how fall in sterling has made life really difficult for Irish exporters pic.twitter.com/2VL9jmlvHU

— Aengus Cox (@AengusCox) May 15, 2017
Meanwhile, Taoiseach Enda Kenny has said the Government is well aware of the challenges that the country faces with Brexit.
He said that the strategy laid out for Ireland is to be able to have the confidence to expand into new markets and the ambition is to grow.
He said it would require hard work but that the Government has responded by giving Enterprise Ireland extra resources.
Mr Kenny said they are quite aware that many companies have not prepared for the situation that will arise from Brexit because the details of what will emerge are not known yet.
He said he sees Ireland now as having recovered very strongly economically, as being in a position where, along with the structure being put into the education system now by Minister for Education Richard Bruton, to be able to cater for the changing frontiers.
He said Ireland is nimble enough and flexible enough to be able to meet the demands of changing business both internationally and at home.
Enterprise Ireland announces new euro zone strategy
Enterprise Ireland today announced a new euro zone strategy to assist Irish exporters increase exports to euro zone countries by 50% by 2020.
It will see the agency partner with some 600 client companies, about half of which are relatively new to the market and who are heavily reliant on the UK.
"This strategy is about driving one of the most significant shifts in the footprint of our client exports into the euro zone. We have to work on the basis that Brexit will create new barriers to Irish trade with the UK," commented Julie Sinnamon.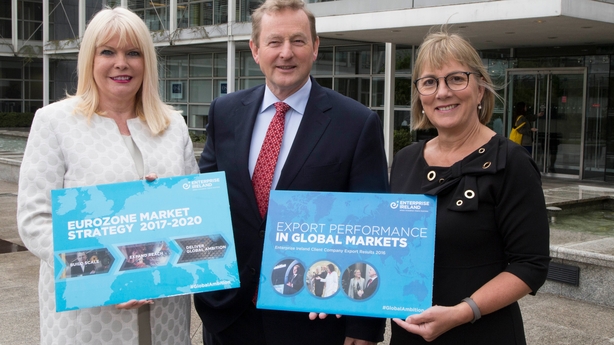 "On the other hand, euro zone markets can provide currency stability, proximity and potential for growth and opportunities for Irish companies," she added.
Ms Sinnamon said that Enterprise Ireland had identified priority sectors and growth targets in areas like construction, engineering, food and the life sciences/medtech sectors.
She said the agency will significantly increase its work with clients to help them identify market opportunities, undertake research and study visits, enter the markets and ultimately secure market growth and scale.
Minister for Jobs, Enterprise and Innovation, Mary Mitchell O'Connor said the Government is ambitious and that was what the whole launch of the European strategy is about.
She said they were asking companies to engage with Enterprise Ireland and the European markets.
She said that she would make sure that Enterprise Ireland has the resources to deliver for Irish companies.
Today's figures from Enterprise Ireland show that the strongest export growth globally was in software and internationally traded services, which grew by 16% to €4.3 billion.
Life sciences, engineering, cleantech, paper print, packaging and electronics exports rose by 10% to €3.9 billion, while construction, timber and consumer retail exports increased by 8% to €2.9 billion.

Export sales grew across most territories with the US and Canada increasing at the fastest pace of 19% to €3.7 billion, followed by exports to the Asia Pacific region, which were up 16% to €1.8 billion.