JP Morgan has agreed a deal to buy 200 Capital Dock in Dublin city centre as part of its expected plans to create up to 500 new jobs here.
The deal was agreed with Kennedy Wilson, in a joint venture with Fairfax Financial Holdings Limited and the National Asset Management Agency.
According to Bloomberg, the US investment bank is paying €125m for the new office building, which is due to be completed by the third quarter of 2018.
The new Capital Dock offices are being built on Sir John Rogerson's Quay in the Dublin Docklands and when finished, will be able to accommodate 1,000 workers.
JP Morgan already employs 500 people in Dublin.
Capital Dock is one of the largest single phase ground up developments to be delivered in Dublin with over 660,000 sq ft of new mixed-use space.
It will include 345,000 sq ft of office space across 100, 200 and 300 Capital Dock and 190 rented residential units.
"Dublin has the vibrant business and technology communities that suit a global firm like ours," commented Carin Bryans, senior country officer for JP Morgan in Ireland.
"Given the momentum of our local businesses, this new building gives us room to grow and some flexibility within the European Union," Ms Bryans added.
IDA Ireland has welcomed JP Morgan's news that they will be expanding their operations in Dublin. The global financial services company has been in Ireland since 1968.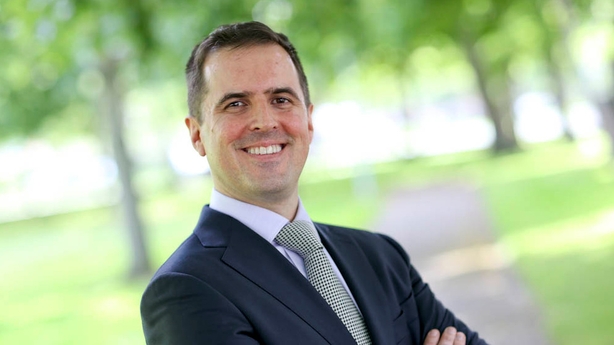 Martin Shanahan, the chief executive of IDA Ireland, said that JP Morgan is a global leader in the financial services industry operating in over 100 countries across the world.
"The new office building will greatly enhance JP Morgan's current presence in Ireland and afford it both the space and flexibility to meet its future growth plans," he added.
He said the move for Capital Dock represents a strong vote of confidence in Ireland and its expanding international financial services sector.
"It shows that our track record, pro-business environment, highly skilled talented workforce and an unwavering commitment to the European single market continues to appeal to investors," he added.
Reports last month said the US bank was considering expanding in Ireland after the UK's vote to leave the European Union.
Theresa May's plan to pull Britain out of the European single market has prompted international banks to begin looking to move jobs to other EU countries.
Estimates for the number of people who could move range from 4,000 to more than 200,000.
Dublin is among the locations being considered by JP Morgan for an enlarged EU hub following the Brexit vote.
Taoiseach Enda Kenny has said that he is aware of companies such as JP Morgan that have made decisions in terms of significant investments to come to Ireland, but perhaps have not announced it yet.
He said quite a number of companies have confirmed their location of preference is for Ireland. He said the scale was not detailed yet.
However, Mr Kenny said the important element of that was what they want is access to the single market access to European money and access churn of talent and Ireland offers all three.
He said that Ireland is in competition with places like Frankfurt, Paris and even New York.
But he said he was quite happy that Ireland was going to gain substantial business from what was an unwanted decision in the first place.
Before the 23 June referendum, chief executive Jamie Dimon told UK staff that as many as 4,000 people could be relocated in the event of Brexit.
Kennedy Wilson's Mary Ricks said that the Dublin occupier market is "buoyant".
"We are in active and advanced dialogue with both Irish and international companies attracted to our visionary Capital Dock development and looking to base themselves in the heart of Dublin," she said.
A growing list of financial services firms have confirmed relocation plans following the Brexit vote, with HSBC moving 1,000 staff to France, AIG set to shift a string of executives to Luxembourg and Lloyd's of London opting for a subsidiary in Brussels.