KBC Bank Ireland has reported a first quarter profit of €70.4m - after tax and impairments - and up from a profit of €34.2m the same time last year.
The bank said that 16,928 new customer accounts were opened in the first three months of 2017, and it noted that six out of 10 current accounts are now opened through digital channels.
KBC said its stock of impaired loans reduced by 16% to €5.4 billion and the bank also reported "continued strong momentum" in reducing the number of mortgage arrears cases on its books.
Mortgage cases in arrears were down 19% compared to the same time last year and KBC said it has now offered a range of solutions to more than nine out of ten customers in difficulty.
It also said it continues to work with the Central Bank on the Tracker Mortgage Examination until it reaches its conclusion.
"Following completion of this examination, we will then make further contact with the affected customers to finalise the review for these customers," Wim Verbraeken, the bank's chief executive, said.
Mr Verbraeken also said that the bank was seeing a significant update of its digital offering in the first quarter.
Six in ten KBC accounts are now being opened online and 15% of customers are using its recently introduced Apple Pay or Android Pay for contactless payments.
"KBC Ireland is paving the way to being the frontrunner in the digital transformation of the KBC Group and more developments are in the pipeline to ensure our customers will benefit from the best banking platforms available," the Irish CEO added.
Meanwhile the bank's Belgian parent reported a net profit of €630m for the first three months of this year, a jump of 60%.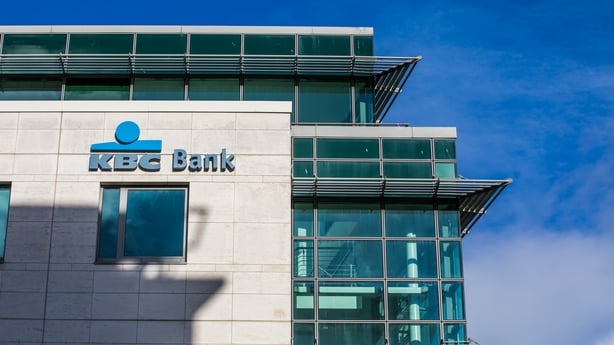 The figure was better than expected, as lending and deposits rose while low loan loss provisions and insurance claims also helped the company.
Deposits and loans advanced in most of its markets, including at its main units in Belgium and the Czech Republic, leading to an overall increase of 4% for loans and 10% for deposits.
The group's combined ratio - a key profit indicator in the non-life insurance sector - fell to 79% from 91% a year ago, a number KBC called "exceptionally low".
Last year's insurance results were impacted by the bombings at the Brussels Airport and the city's metro on March 22, which killed 32 people and wounded many others.
The bank also said its loan impairments were flattered by the clawback of losses in the Irish market.
They expect that impairment release for Ireland to be in the range of €120-160m for the year.