Irish households have reduced their debt as a proportion of disposable income more than any other European Union country over the past four years.
However, new figures from the Central Bank also indicate households here remain the fourth most indebted in the EU.
Between Q4 2012 and Q4 2016 Irish household debt fell from 193.9% of disposable income to 140.9% - a drop of 53% - while euro area household debt fell by just 3.3% over the same period.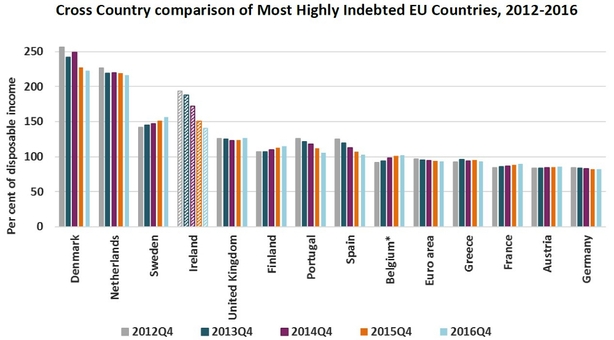 The data also show household net worth rose by €7.2 billion during Q4 2016, to stand at €653.7 billion, or €137,286 per capita.
This increase was mainly driven by rising house prices and incomes, and a decline in household liabilities.
Household net worth has risen by 51% since its post-boom trough of €432.9 billion during the second quarter of 2012, but net worth still remains 9% lower than at its peak of €718.5 billion in Q2 2007.