The latest Exchequer figures from the Department of Finance show that total tax receipts for the four months to the end of April are down slightly on the Government's targets.
The Finance Department said total tax receipts are 2.4% or €344m lower than it had forecast, the second shortfall in two months.
Three of the big four taxes - income tax, corporation tax and excise duties - were lower than the Government's targets.
However, a spokesman for the Department of Finance said the Government was confident of reaching its targets for the full year.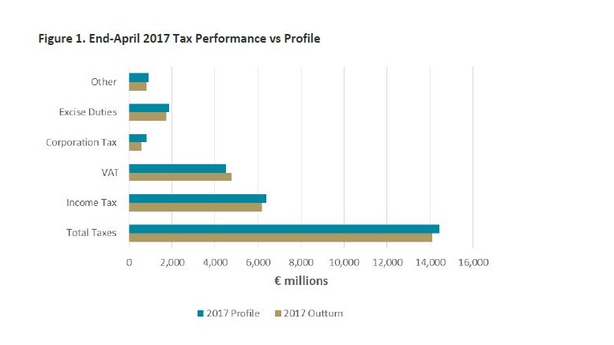 Today's figures show that income tax receipts of €1.762 billion were collected last month, 1% or €19m below monthly targets.
USC is also slightly lower than the department's target. In a statement, it said it is working with the Revenue Commissioners to examine why this is the case as unemployment levels continue to decrease.
Corporation tax receipts of €67m were reported last month, closing the month €47m below profile. For the four months to the end of April, receipts were down €172m year on year and €223m below target.
Excise duties also finished the month €26m or 5.4% lower target. In cumulative terms, receipts of €1.740 billion at the end of April were down 6.3% or €117m against targets.
Stamp duty receipts also under-performed last month, closing the month €38m below profile. So far this year, stamp duty is down 10.4% or €34m.
But VAT receipts in April - a non-VAT month - were €106m above expectations. VAT is now 5.7% or €257m higher than expected, the Finance Department said.
A total of €29m was also collected in Local Property Tax receipts in April, down €2m on the monthly target. This brings the total for the year so far to €253m, €6m or 2.3% ahead of targets.
Overall, the Finance Department said that an Exchequer Deficit of 2.537 billion was recorded for the four months to the end of April, a rise on the deficit of €1.055 billion the same time last year.
The Department said the bigger deficit was due to a timing issue as the Exchequer benefited from an early receipt of a Central Bank surplus last year.
The Central Bank is due to pay the Exchequer a surplus of €1.8 billion this month. It published its annual report today which showed it made a profit of €2.3 billion for last year.
Peter Vale, tax partner at Grant Thornton, said today's Exchequer figures continue the recent trend of slightly disappointing numbers.
Noting that income tax receipts continue to remain relatively flat compared with last year and despite strong economic growth and robust employment figures, he said it is difficult to rationalise why income tax receipts are not stronger, with modest tax cuts in 2017 unlikely to explain the difference.

But in contrast with the stagnant income tax numbers, VAT receipts for the year to date are strong, up 14.5% compared with 2016.
"For a long time, the increase in VAT receipts lagged behind increases in other tax heads, with favourable economic conditions not translating into greater consumer spending. The stronger VAT figures in 2017 would suggest a trend of increased spending, notwithstanding a sluggishness in certain sectors, such as new car sales," Mr Vale said.