The UK election on June 8 will not impact the timing of the Government's plans to launch an initial public offering (IPO) of shares in AIB, Finance Minister Michael Noonan said today.
Mr Noonan made his comments at the official opening of the new Central Bank Building in Dublin's Docklands.
The Government has repeatedly said that the next available window for an IPO is between mid May and the first week of July.
Mr Noonan said today here would be plenty of time to get the IPO away in the weeks after June 8.
"We haven't decided on any particular date. What we have said is the window of opportunity for a variety of reasons is between mid May and early July and the UK election doesn't interfere with that window," the Minister added.
Mr Noonan said the new Central Bank is a "confident new building, for a new time in financial regulation, in the heart of Dublin's financial district".
He said the bank's new location will allow it to fulfil its intentions to be a more "hands on" regulator.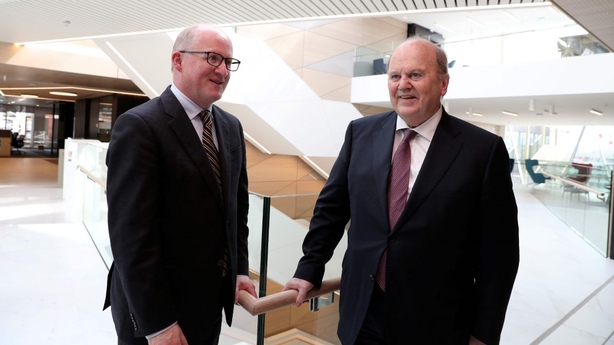 "The location of the Central Bank here should support engagement and dialogue between the bank and the firms it regulates. It is vital that firms know the high standards that they must meet and the Central Bank fully understands the operations of these firms," the Minister said. 
He said that this engagement is particularly important as the Central Bank meets with firms considering relocation to Ireland. 
"I know that the Central Bank's standing as a strong and independent regulator is a key component of creating a successful and attractive jurisdiction for the location of financial services activities in a post Brexit world," he added.
Notes of a meeting last July between Minister for Enterprise Mary Mitchell O'Connor and Central Bank Governor Philip Lane were published by the Sunday Business Post last weekend. The notes showed Ms O'Connor had relayed to the Central Bank concerns expressed to her that Ireland was "closed for business" from financial services firms potentially looking to relocate here following the Brexit vote.
Mr Noonan said the meeting was "appropriate" and that there was no question of any interference with the independence of the Central Bank from government. Philip Lane "is willing to meet any government minister to discuss the issues that they have," he said.
"Financial regulation is increasingly playing an important role in the considerations of offshore companies deciding to invest in Ireland. No wider issue arises," he said.