Unilever reported a surprise pick up in quarterly sales growth today, boosting its argument that it can improve performance on its own after spurning a $143 billion takeover offer from Kraft Heinz in February.
The maker of Knorr soups and Dove soap earlier this month announced a business revamp in response to the takeover interest.
It said today that improving economies and rising commodity costs helped it to lift prices in the first quarter.
That offset a small dip in the volume of goods sold.
Unilever's chief financial officer Graeme Pitkethly said there was always a delay between economic improvements and a pick up in household spending.
To this end, Unilever expected a better performance in the second half of the year, helped also by its own easier year-on-year comparisons.
"We are seeing positive signs in the economy overall," he told Reuters, talking about a "bottoming out" of currency devaluations in places such as India, Indonesia and Brazil.
Unilever's underlying sales growth of 2.9% topped analysts' expectations of 2% and 2.2% growth in the fourth quarter of 2016.
Growth was led by emerging markets, while pricing added 3% and the dip in volumes took off 0.1%.
The results outshone those of rival Nestle. They sent Unilever's shares up 1.5% to £39.94, leaving them more than 19% higher than before Kraft's unsolicited, and swiftly rejected, offer.
Nestle, the world's largest packaged food company, posted sales growth of only 2.3%.
Compared with Unilever, Nestle has much more exposure to the shrinking North American packaged food market, where a late Easter and one less trading day in the quarter compounded weakness due to changing consumer tastes and intense competition.
Even at Unilever, food was the weakest division, coming in flat, whereas the ice cream and tea business rose 5.4% and home and personal care products rose 3.4%.
Excluding the margarine and spreads business, which is to be sold, Unilever's group underlying sales would have risen 3.4%.
Pitkethly said it was "a bit of a relief" to be able to finally "engage wholeheartedly" with private equity suitors which have been circling the unit for some time.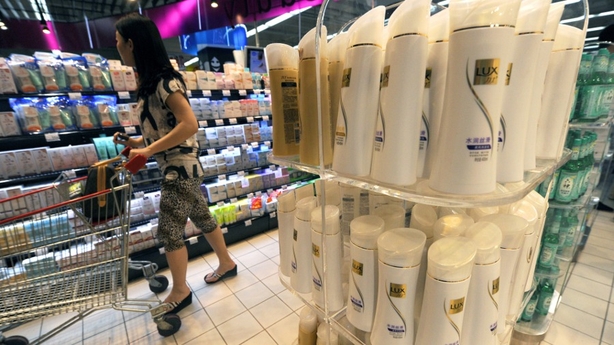 In a statement, the company's chief executive Paul Polman said the results reconfirmed the strength of Unilever's business model.
To appease investors, some of which were disappointed by the company's refusal to engage in takeover talks, Unilever announced plans this month aimed at lifting shareholder returns.
It said it aimed to cut more costs, boost margins, buy back shares, increase the dividend, sell or spin off its margarine business, combine its remaining food businesses into one unit and review its dual Anglo-Dutch structure.
Unilever said its turnover rose 6.1% to €13.3 billion in the first quarter, including a foreign exchange boost of 2.4%.
The company also reiterated this month's forecast for 2017 sales growth of 3-5%, with margins growing at least 80 basis points and a dividend increase of 12%.