Ireland's trade surplus fell by €452m (-9%) in February following a 16% rise in imports and just a 3% rise in exports, according to new figures from the Central Statistics Office.
Goods imports for the month increased by €800m to €5.88 billion, while exports were €349m higher to €10.6 billion, which leaves the country's trade surplus at €4.7 billion.
Exports of medical and pharmaceutical products increased by €827m (+37%) to just over €3 billion in February, when compared with the same month last year.
Exports of Electrical machinery, apparatus and appliances were also up, increasing by €159m (+28%) to €731m.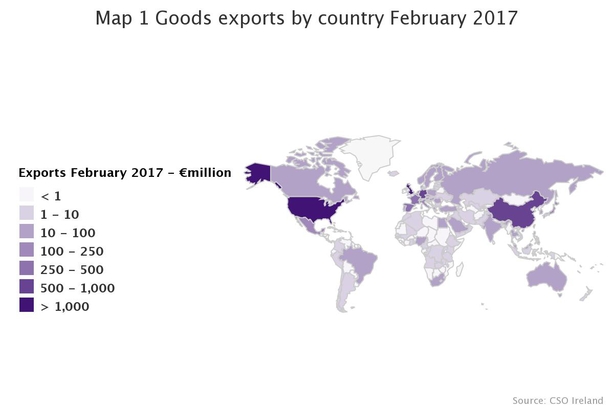 The CSO figures also show that on the import side, fuel imports rose in February by €56m (+25%) on the same month in 2016.
Exports to Britain were 19% higher during the month to €1.16 billion, while imports from the country showed a small decrease, dropping by 4% to €1.22 billion.
At €4.85 billion the European Union accounted for half of Irish exports in February. €1.15 billion of this went to Belgium, while the main non-EU destination for Irish exports was the United States, accounting for €2.95 billion.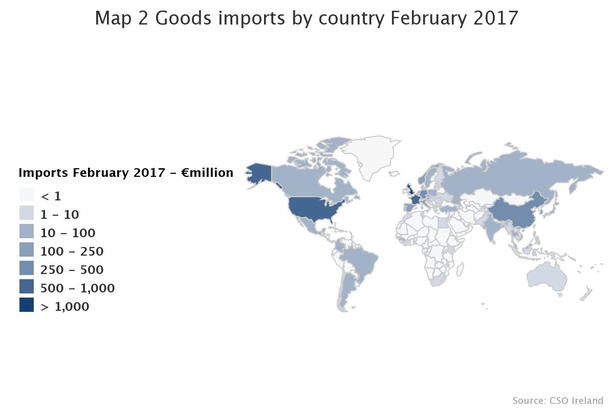 With regard to where Ireland's imports are coming from, 63% came from the EU in February. €1.22 billion of this came from Great Britain.
Outside of the EU, the main sources of imports were the US (€767m) and China (€283m).
In its assessment, Davy said: "Trade data for February show that exports have started the year on a solid footing.
"Goods exports were up 3.4% on the month and 15.5% on the year, driven by increases in both pharmaceuticals and traditional industries.
"Looking ahead, we expect a larger contribution to GDP growth this year from exports following a relatively weak 2.4% gain in 2016."