Higher transport costs drove annual inflation up by 0.7% in March, according to the latest Consumer Price Index from the Central Statistics Office.
This compares with a rate of inflation across the European Union - as measured by the EU Harmonised Index of Consumer Prices (HICP) - of 0.6% over the same comparative period.
The largest price increase here in the past year was seen in the area of transport (+5.3%), mainly due to higher petrol and diesel prices as well as an increase in air fares - which was partially offset by a reduction in the price of cars.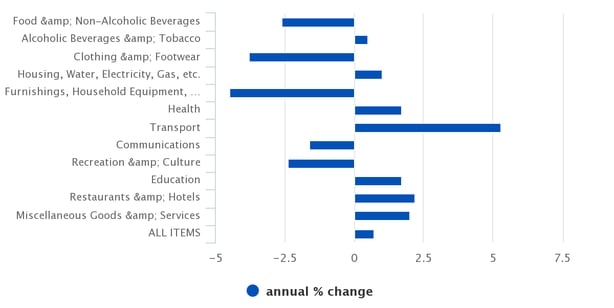 Prices in restaurants & hotels (+2.2%) increased primarily due to higher prices for alcoholic drinks and food consumed in licensed premises, restaurants, cafes etc. and a rise in the cost of hotel accommodation.
Furnishings, household equipment & routine household maintenance costs are 4.5% cheaper than they were this time last year, while price drops were also seen with clothing & footwear (-3.8%), food & drink (-2.6%), and recreation & culture (-2.4%).
The CSO figures also show the monthly rise in inflation between February and March was 0.6%.