The Government's budget deficit fell to 0.5% of gross domestic product at the end of 2016, new figures from the Central Statistics Office shows.
This beat the Government's target to cut it to 0.9% as strong economic growth also brought the country's debt burden down.
Today's CSO figures show that the Government deficit came to €1.3 billion at the end of of last year, down from a deficit of €5 billion in 2015.
It said an increase in government revenue of 3.5% along with a fall in government expenditure of 1.6% led to the improvement in the deficit.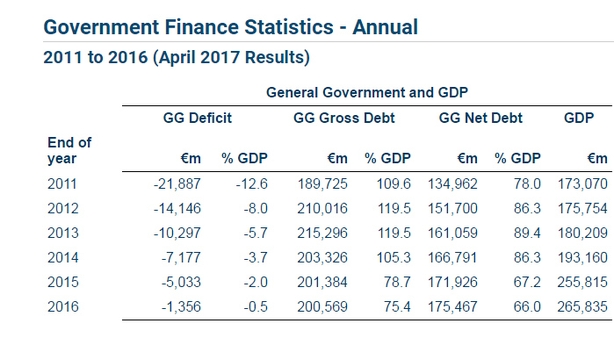 Meanwhile, GDP growth of 5.2% last year pushed the debt-to-GDP ratio down to 75.4%, the CSO also said today.
The general government gross debt stood at €200.6 billion at the end of 2016, down from the 2015 figure of €201.3 billion (or 78.7% of GDP).
But massively revised growth figures from a year earlier has rendered this standard measure a poor judge of Irish debt which remains among the highest in the euro zone compared to general government revenue.