The Irish grocery market has slipped into deflation for the first time in nearly two years, according to new figures from market research firm Kantar Worldpanel Ireland.
The data, covering the 12 weeks to 26 March, show a 0.7% drop in growth in the sector to -0.2% when compared with the preceding 12-week period.
Kantar's stats also show SuperValu has regained its spot as the country's largest grocer with a 22.6% market share, having previously been overtaken by Dunnes Stores, which is now at 22.3%.
Tesco is next (21.2%), while Lidl (11.4%) and Aldi (11.3%) continue to gain in market share.
The figures also reveal the rise in supermarkets' own-label lines, which now account for 54% of grocery spend - up 6% over the past four years.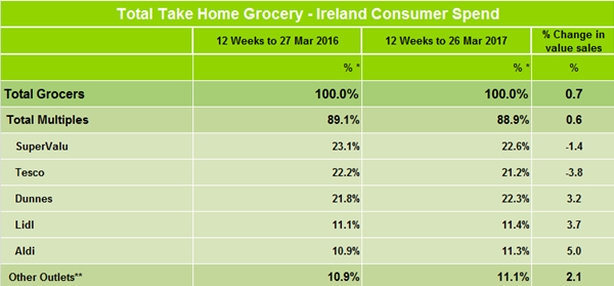 Aldi and Lidl are a major contributing factor, as their stock is predominantly own-label.
Commenting on the latest figures, Director at Kantar Worldpanel David Berry said: "Only now are we starting to feel the effect of the weakened pound following the EU referendum as the price of British imports drops.
"For the first time since May 2015 grocery prices are falling so consumers are likely to have a little extra cash to hand, though this doesn't necessary mean they'll spend more in store.
"Many will see the break from inflation as a chance to cut down their grocery costs and pocket the savings instead."