Construction activity rose at its fastest pace in five months in March, according to the latest purchasing managers' index on the sector from Ulster Bank.
The research highlighted healthy expansion in March amid reports of improving client demand.
New order growth was sharp and only marginally weaker than in February.
The PMI rose for the second month running to 60.8 in March from 57.9 in February, pointing to a sharp monthly increase in total construction activity, and the most marked since last October.
The survey also suggests there was a very sharp acceleration in commercial activity, while business confidence remained positive as firms generally expect recent improvements to continue over the coming year.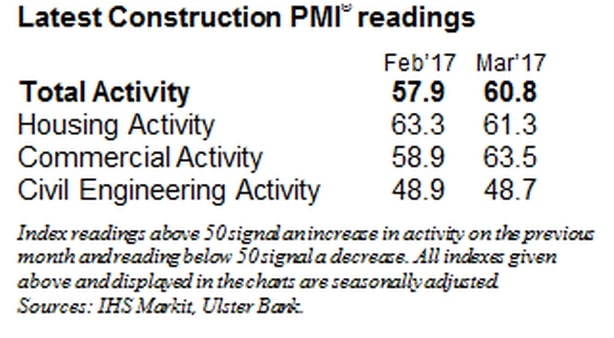 According to the report, for the first time this year, the commercial construction category posted the fastest increase in activity during March as growth reached a five-month high.
It said housing activity continued to rise sharply, despite the rate of expansion easing from February.
Commenting on the survey, Chief Economist RoI at Ulster Bank Simon Barry said: "Strong demand for the services of construction firms was very much evident in further substantial increases in new orders, employment and input buying last month.
"And respondents continue to judge the sector's outlook to be very favourable, with improving economic conditions, strengthening client demand and plans for business expansion cited as important sources of support.
"Indeed, confidence about future activity prospects edged higher in March with more than 57% of respondents anticipating a rise in their activity levels over the coming twelve months," he added.