Ulster Bank is to close 22 of its branches across the country, which will result in around 220 redundancies at the lender's Irish operation.
The affected branches include five in Dublin (Dalkey, Donnybrook, Dorset St, Rathmines, and Sandyford); four in Cork (Ballincollig, Blackpool, Carrigaline, and Fermoy); two in Donegal (Ardara and Raphoe); two in Cavan (Arva and Cootehill); two in Limerick (Castletroy and Newscastlewest); and two in Galway (Briarhill and Newcastle).
The other closures are Ballyhaunis in Mayo, Ballymote in Sligo, Carrickmacross in Monaghan, Edenderry in Offaly, and Edgeworthstown in Longford. 
Ulster Bank said an average of 30 customers per day used each of the affected branches in the past week.
The closures are scheduled to take place in June and September and, when complete, will leave Ulster Bank with 88 branches in the Republic of Ireland.
The bank said it hopes as many of the redundancies as possible will be volunteer-led.
In previous similar cases, Ulster Bank voluntary redundancy schemes have been oversubscribed.
The lender said the announcement follows a customer shift away from traditional in-branch banking towards digital channels.
Last year 62% of Ulster Bank's customer interactions were digital, compared with 10% in branches.
Ulster Bank CEO Gerry Mallon said the move is "in response to changing customer demand".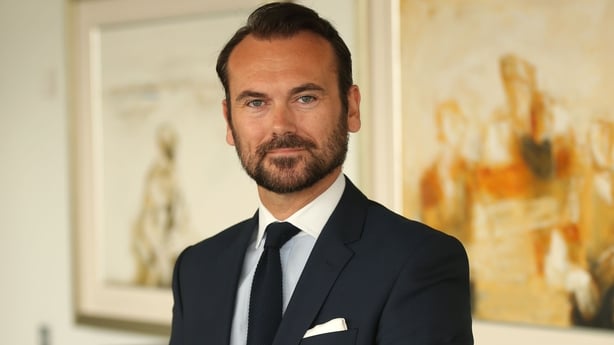 Mr Mallon added: "Closing a branch is a difficult decision which we do not take lightly, and our branch network remains an important part of how we serve our customers. 
"However, the role of the branch continues to move toward advice and away from day-to-day transactions, with only 10% of our customer interactions now happening in branch.
"These changes to right-size our business mean that while we will create a number of new roles, we will reduce our number of roles across Ulster Bank by approximately 220 during 2017.
"We will manage these changes in line with our existing process with the FSU."
In order to assist affected customers, the bank has put in place the newly created roles of community bankers and two new mobile banks, in addition to the two already in place.
The Financial Services Union's senior industrial relations officer, Gareth Murphy, described news of today's branch closures as "shocking"
"Ulster Bank in the Republic of Ireland made a profit of €280m in 2016.  Its financial statement reported significant increases in business lending, mortgage drawdowns and general lending.  Against this reality, the scale and severity of the cuts announced today are completely disproportionate and unjustified," Mr Murphy stated. 
 
Larry Broderick, General Secretary of the Financial Services Union, said that financial institutions on the island of Ireland have announced the closure of 46 branches since January. 
Mr Broderick said the closures are "yet another example of short-term decision making having a major impact on staff, customers and local economies".
"What is clear is that we cannot allow this hollowing out of access to banking and other services continue on an ad hoc basis. We need a moratorium on closures to give a broad based forum on banking and financial services the opportunity to chart a long-term strategy for the future of banking in Ireland," he added.
Earlier this month, Ulster Bank announced it is to close nine branches across its network in Northern Ireland.
Royal Bank of Scotland to close over 150 branches in the UK
Meanwhile, Ulster Bank's parent Royal Bank of Scotland said today it plans to close more than 150 bank branches in the UK.
770 roles are at risk in the latest round of cuts and closures at the UK lender. 
The bank said in a statement it plans to close about 128 NatWest and 30 Royal Bank of Scotland branches. 
RBS said there may be a net reduction of about 360 jobs when newly created roles are included.
The bank's chief executive Ross McEwan has been cutting thousands of jobs to reduce expenses in a bid to boost earnings after nine years of straight annual losses.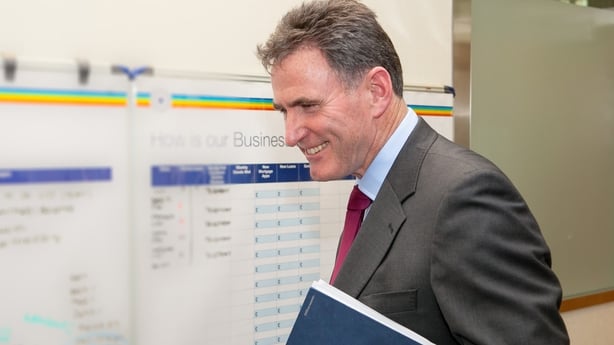 RBS, which is more than 70% owned by the UK government, said the job cuts and branch closures were due to customers increasingly banking online.
"As customers change the way they bank with us, we must change the way we serve them," the bank said in a statement.
RBS is struggling to return to health nine years after requiring the world's largest bank bailout at the height of the financial crisis.
The bank had warned of more jobs and branch closures when it announced a £7 billion annual loss last month. 
At the time, it said it planned to cut £2 billion of costs from the business over the next four years to help improve profits.