Deutsche Bank, which is seeking to raise €8 billion from shareholders, predicted that group revenues would be steady in 2017 as it reported a strong start to the year in bond trading.
However, shares in Germany's largest bank fell by more than 3% after it gave details of its capital increase on Sunday.
Its annual report then show that while it has brought down compensation levels, staff numbers have fallen little since 2010.
Shareholders have been frustrated by the pace of cost reductions at Deutsche Bank.
The bank said in the report that the number of staff to earn more than €1m dropped by more than half to 316 in 2016, a turbulent year during which it had to counter speculation it would need a state bailout.
Just four Deutsche Bank employees received more than €4m, after the bank sought to cut costs following heavy losses and multi-billion dollar legal penalties last year.
However, Deutsche Bank's chief executive John Cryan said the future looked brighter, with economic recovery in Europe and higher interest rates on the horizon.
"We currently see a better outlook for revenues," John Cryan said in the report, summing up a year he described as "very challenging".
With the global economy on a steadier footing, the US Federal Reserve raising interest rates and political rhetoric pointing to a pause on new regulation, growth beckons for the world's top banks which are expected to make more profit from bond trading this year.
US lenders are remaining strong and typically weaker European lenders are catching up.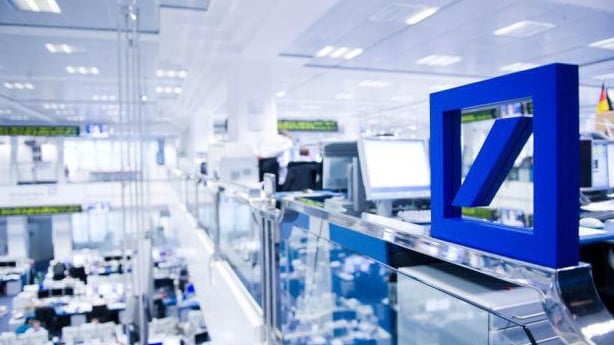 Deutsche Bank has so far lagged rivals, although it said bond trading had enjoyed a good start to 2017.
Investors in Deutsche Bank have long expressed frustration with it for being slow in getting to grips with costs, most of which relate to pay. The annual report showed the lender's total headcount fell by 1.3% to 99,700 year-on-year in 2016.
Total compensation for employees fell by 11% to €11.9 billion in 2016, when it had a net loss of €1.4 billion.
This compared to 2014 when Deutsche Bank posted net income of €1.7 billion and compensation fell by 5%.
The annual report revealed that Cryan, who took home a total of €3.8m last year, will receive a salary of €3.4m in 2017, while other board members will get between €2.4m and €3m.
The maximum pay for an executive board member in 2017, including bonus, is €9.85m.
Most staff faced bonus cuts while fixed salaries edged up, in line with rules imposed by European regulators following the financial crisis in an effort to reduce excessive risk-taking.
Deutsche Bank on Sunday gave details of its latest capital raising, which involves it selling new shares at a discount of 26% to the price of the stock when excluding subscription rights.
This compares with a 38% discount for a similar capital raising by Italy's UniCredit last month.
The subscription price for new Deutsche Bank shares has been set at €11.65 per share and the subscription period will run from March 21 until April 6.
The rights issue represents a hike of about 50% to Deutsche Bank's current shares in issue and puts the bank on course to have raised about €30 billion in the last seven years.
This is more than its entire current €25 billion market value.