Vodafone Group and Idea Cellular agreed today to merge their Indian operations to create the country's biggest telecoms business in a bid to contest a brutal price war sparked by new rival Reliance.
The combined Vodafone-Idea group would have almost 400 million customers, or a 35% market share.
"The combined entity will become the leading challenger with the scale to compete more effectively," Idea said in the statement.
India's mobile industry was thrown into turmoil with the launch last year of Reliance Jio Infocomm.
This new 4G mobile broadband network was built at a cost of more than $20 billion by India's richest businessman, Mukesh Ambani, as part of his Reliance Industries conglomerate.
Jio has made an impact with free voice calls and cut-price data services, forcing India's three biggest operators - Bharti Airtel, Vodafone and Idea - to slash prices and accept lower profits.
"Consolidation is a much anticipated and very welcome development in this beleaguered telecom sector," said Arpita Pal Agrawal, a partner and telecom analyst at PwC India.
"It will help bring in operational efficiencies and improved quality of service to customers," the analyst added.
Vodafone has endured a tumultuous ride since it entered India in 2007, with fierce competition and a high-profile tax battle making a business contributing more than 10% of its revenues and profits its most unpredictable by far.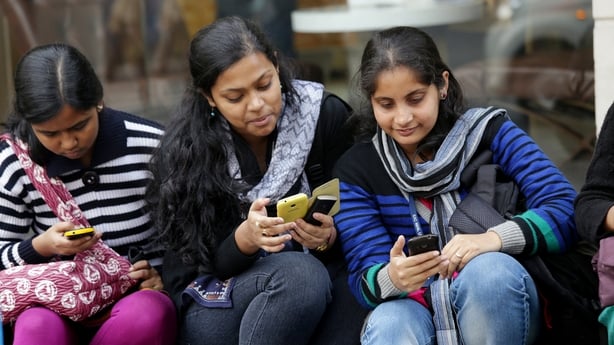 Vodafone, the world's second-largest mobile phone operator, will own 45.1% of the merged entity, after it transfers about 4.9% to promoters of Idea and/or their affiliates for 38.74 billion rupees ($592.15m) in cash, Idea said.
Aditya Birla Group, the majority owner of Idea, will own 26% while other shareholders will own the remaining 28.9%. Aditya and Vodafone eventually aim to own an equal share of the joint venture.
The joint venture will have a combined enterprise value of $23.2 billion.
Vodafone and Idea, which first announced they were in talks in January, expected cost and capex synergies of about $10 billion in net present value after integration costs and spectrum payments, Idea said today.
Idea would have the sole right to appoint the chairman, while Vodafone would appoint the chief financial officer.
The appointment of a chief executive officer and a chief operating officer would require the approval of both companies, which would get the right to nominate three board members each.
The deal does not include Vodafone's 42% stake in Indus Towers, a joint venture between the British group, a unit of Bharti Airtel and Idea Cellular.
But both Idea and Vodafone said they would use their respective stakes in Indus Tower as well as standalone tower assets to reduce debt.
Idea owns 11.15% of the joint venture, while Vodafone owns 42%.