Irish exports grew by €706m (7%) to over €10.8 billion between December and January, latest figures from the Central Statistics Office show.
Imports into the country fell by 20% during the same period, resulting in a trade surplus of €5.75 billion.
When compared with January 2016, pharmaceutical exports for January were 14% (€725m) higher at €5.85 billion. The next largest sectoral jump was seen with machinery & transport equipment, with imports rising by €180m, or 14%.
According to the CSO, fuel imports in January experienced a 66% jump (+€183m) when compared with the same month last year.
Despite ongoing uncertainty over Ireland's future trading relationship with the Great Britain, year-on-year exports to the territory increased by €119, or 12%, to €1.01 billion in January.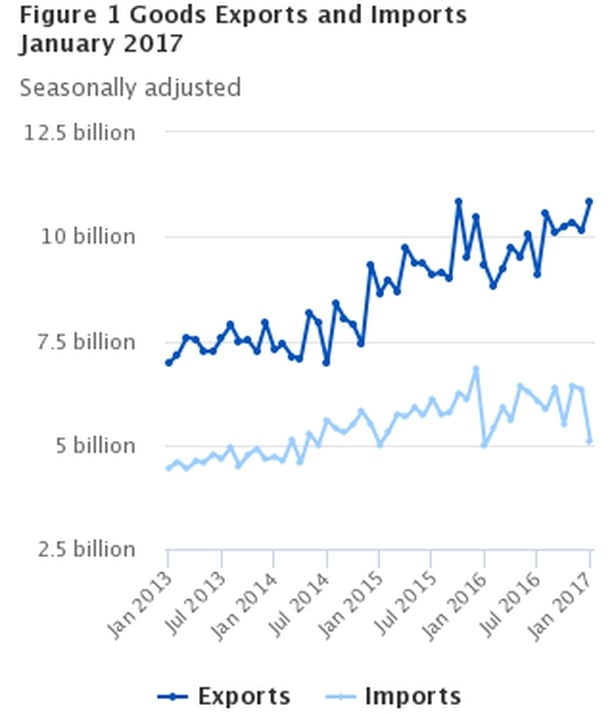 The largest export rises were seen with regard to food & live animals, and pharmaceuticals.
Imports from Great Britain were 2%, or €30m, higher over the same comparative period.
Overall, at €5.01 billion the European Union accounted for just over half of Irish exports in January, with Belgium the country in the bloc that received the most Irish exports.
Ireland's largest export destination during the month was the US, with more than €3.1 billion exported.
On the imports front in January, 60% of Ireland's total came from EU countries, with €1.25 billion, or 25%, of this coming from Great Britain.
The USA and China were the largest non-EU sources of imports.