Fuel forecourt retailer Applegreen has announced plans for its first dividend after reporting an almost 16% rise in gross profit for 2016. 
Applegreen's gross profit rose to €145.8m for the year to the end of December as revenues rose 9% to almost €1.18 billion.
The company said its earnings before interest, tax, depreciation and amortisation were also up 10.7% to €32m. 
As a result the firm is proposing a final dividend of 1.25 cent per share - the first since the company floated on the Dublin and London stock exchanges in June 2015.
Applegreen added 43 sites to its business last year, bringing the total to 243 by the end of last year. 
22 of these were in Republic of Ireland, 15 in the UK and six in the US. 28 of the 43 new sites were company owned sites, including five service areas and 23 petrol stations and 15 were dealer sites.
It also continued its rebranding and upgrade programme with another 19 sites completed during the year, adding one or more food outlets at each site.
Applegreen also introduced a new food offer - Freshii - to its existing portfolio of own brands and international brands including Subway, Costa Coffee, Burger King, Lavazza, Chopstix and Greggs.
The company's chief executive Bob Etchingham said Applegreen's food and store sales were particularly strong in the Republic of Ireland during the year while the UK had a good performance in the second six months.
We need your consent to load this rte-player contentWe use rte-player to manage extra content that can set cookies on your device and collect data about your activity. Please review their details and accept them to load the content.Manage Preferences

But he noted that fuel margin was impacted by the rising oil price and in Ireland by the rising proportion of fuel card of the total fuel volume. 
"The UK's decision to exit the EU has resulted in a weaker sterling which has impacted on the consolidated euro results for the company. To date this decision has had no further impact on the business," he added.
Applegreen said that annual revenues in the Republic of Ireland rose by 11.4% and gross profit increased to 15%.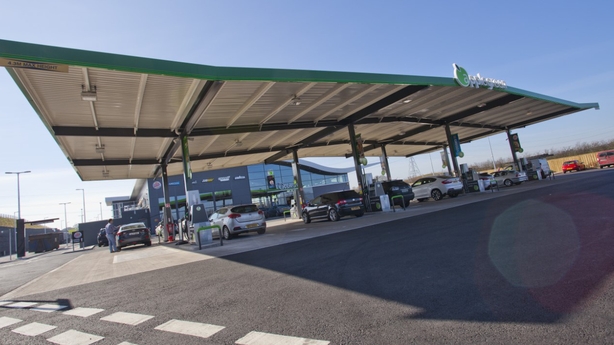 Annual revenues at its UK business rose  by 17.1% while gross profit increased by almost 29% mainly due to the continued expansion of its UK portfolio. 
On its US operations, the company said it is confident that the US market represents a viable region for further developing with an ample supply of expansion opportunities and an under developed retail model in some regions.
During the year, the company agreed a deal to buy a 50% share in the Joint Fuels Terminal in Dublin Port for the Topaz Energy Company for 15.7m. 
Applegreen said the deal - which is still subject to competition approval - should enhance the competitiveness of its supply and provide further scope for the development of its Irish fuel business.