The country's GDP (gross domestic product) grew by a stronger than expected 5.2% last year, according to the Central Statistics Office. 
Preliminary results for 2016 show economic growth of 5.2% - as measured by GDP - and 9% - as measured by GNP, which strips out cross border flows of multinationals. 
The economy grew by 5.2% last year, according to the Central Statistics Office pic.twitter.com/EV39B2q0aD

— RTÉ Business (@RTEbusiness) March 9, 2017
Minister for Finance Michael Noonan said the figures confirm "that under the steady hand of this Government Ireland remains among the fastest growing economies in the European Union last year".
"Domestic demand is now the main driver of growth with private consumption up 3% in 2016 supported by favourable labour market dynamics, continued increases in disposable income and solid consumer confidence," the Minister added.
The statistics compare with an EU average of just under 2% GDP growth.
They makes Ireland the European Union's fastest growing economy for the third successive year as a robust recovery remained strong ahead of potential threats from Brexit.
Today's figures show that industry grew by 1.8%, while other services grew by 6% in 2016. Services is dominated by domestic activity such as health education. 
Distribution, transport software and communications grew by 7.8%, while the agriculture sector grew by 6.2% and construction grew by 11.4%.  Public administration grew by 4.4%.
The CSO said that GDP growth of this order implies a debt to GDP ratio of around 76%. 
In the fourth quarter of 2016, GDP grew by 2.5% and GNP grew by 3.2%.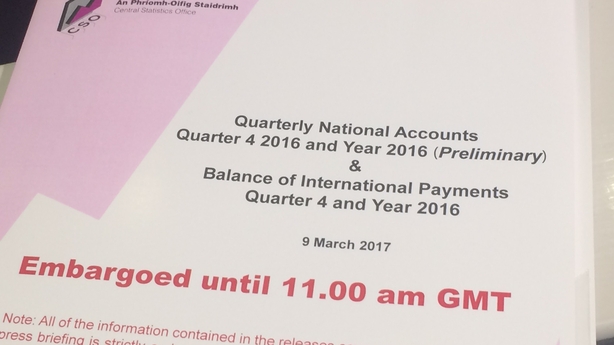 This was the strongest growth level in the EU. The EU average for the last three months of 2015 was 0.4% growth in GDP.
The country's growth last year compared to a massive expansion of 26% in 2015 which was the result of a major revision to the stock of capital assets.
That called into question the relevance of using GDP to measure the true health of Ireland's open economy and the CSO plans to phase in a new yardstick - adjusted gross national income or "GNI" - by the end of 2018.
Meanwhile, separate figures from the CSO on the country's Balance of Payments show that its current account recorded a surplus of €12.5 billion in 2016.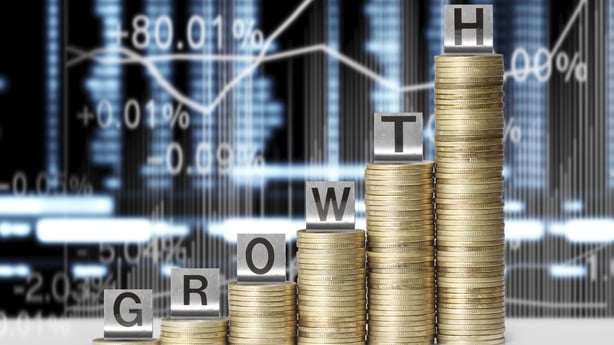 This was a decrease on the €26.2 billion current account surplus in 2015.
The CSO said that the Services deficit increased by €11.9 billion to €41.3 billion for 2016 compared with 2015. 
It noted that the computer services exports of €63.8 billion in 2016 was more than offset by business services imports of €80.3 billion in the year. 
The Merchandise surplus decreased by €7.6 billion to €103.0 billion last year, the CSO added.
Commenting on today's figures, Merrion economist Alan McQuaid said that personal spending and construction activity appear to be holding up, which is encouraging. 
But he warned that Brexit worries will intensify in 2017, leading to lower overall GDP growth this year.
"Based on these latest CSO numbers, we now think that Irish GDP growth will be in the 4% to 4.5% range this year, up from our previous estimate of 3.6%," he added.
Davy economist Conall Mac Coille also noted that one-third of imported consumer goods in Ireland come from the UK, so that sterling's weakness helped keep Irish CPI inflation close to zero. 
"Whereas UK consumers are now seeing their purchasing power squeezed by higher import prices, the opposite is happening in Ireland - which will help sustain consumer spending in 2017," he added.
Mr Mac Coille said that he expects Davy will probably have to revise up its 2017 forecast from 3.7% currently to above 4%.
Goodbody's Dermot O'Leary said that while he has sympathy with the CSO in having to implement accepted international conventions on the compilation of the Irish national accounts, today's figures once again questions the relevance of the publication of GDP/GNP statistics for Ireland. 
Mr O'Leary said this is further complicated by the suppression of data that allowed us to previously make a reasonable estimate of an underlying growth rate for the Irish economy. 
"Stepping back, we know from the timely PMI data that the Irish economy continues to be the fastest growing economy in the euro area. There is just a lot of uncertainty about how fast the growth is," he stated.
"A new metric - GNI* - has been recommended as an alternative measure of Irish growth. The CSO is currently working on this, but the urgency is highlighted by today's rather meaningless set of data," he added.