Ferry operator Irish Continental Group has reported pre-tax profits of €60.4m for the year to the end of December, up from €54.1m in 2015 despite sterling "headwinds".
Revenues for the year rose by 1.5% to €325m, while earnings before interest, tax and other items were over 10% higher at €83.5m.
ICG, which owns Irish Ferries, also reduced its net debt by almost 15%.
The company's chief executive Eamonn Rothwell said the group has benefited from the continuing improvement in 2016 of the economies in its sphere of operations.
He noted that the Irish economy has continued to grow and this has been positive for the group with increased carryings across all business areas.
ICG also benefited from lower fuel prices year on year. Group fuel costs amounted to €32.2m, down 17.4% on the previous year, due to the fall in global dollar oil prices.
But the company said that these positive benefits have been partially offset through reduced fuel surcharges to customers and increased exchange rate volatility.
"The group is a net receiver of sterling which means a weaker sterling exchange rate has had a negative effect on year on year comparisons. This has been a significant headwind for the group in 2016, as sterling weakened materially during our peak summer season," it said.
"The weakening of sterling reduced our average tourism yields, however this was partially offset by the reduction in sterling denominated costs," it added.
ICG said its board has proposed a final dividend of 7.760 cent per ICG unit. This makes a total dividend for 2016 of 11.58 cent per ICG unit, up 5% on the previous year.
ICG operates through two divisions - the ferries division operating under the Irish Ferries brand and RoRo freight services; and the container and terminal division which includes the Eucon shipping line and ICG's terminals in Dublin and Belfast.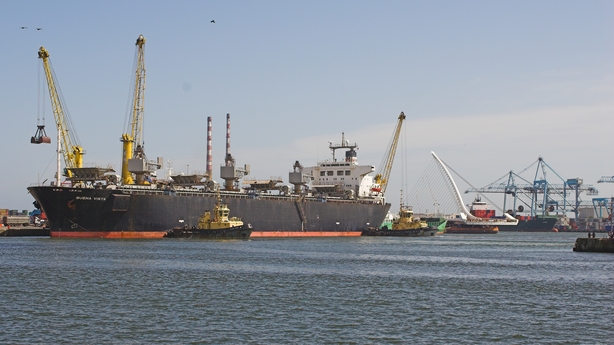 ICG said its Ferries division had a strong year on the back of increased volumes, reduced fuel costs and increased chartering activity. Revenues at the division rose by 2.5% to €209.8m while EBITDA jumped 11% to €70.7m.
Irish Ferries' car carryings rose by 3.3% to 414,100 cars in 2016.
The total sea passenger market - which includes car, coach and foot passengers - to and from Ireland fell by 3.1% to 3.1 million. Its passenger numbers were down 3.2% at 1.623 million.
But the Ro-Ro freight market between Ireland, the UK and France, continued to grow last year with the total number of trucks and trailers up by 7% to about 9520,000 units on the back of the improving Irish economy.
Revenues at ICG's Container and Terminal Division rose by 4.8% to €123.9m while EBITDA increased by 8.5% to €12.8m.
ICG said that containers handled at its terminals in Dublin and Belfast were up 15.9% at 299,100 lifts. Volumes in Dublin were up 1.9%, while volumes in Belfast raced 42.3% higher due to the full year of operations of the consolidated container terminal at Victoria Terminal 3.
Looking ahead, ICG said despite the uncertainty surrounding the impact of the Brexit vote in the UK and the weakness of sterling, the Irish Sea markets continue to perform well.
It noted that while world fuel prices have increased over the last number of months, they remain at manageable levels and its fuel surcharge mechanisms remain in place.
"The weakening of sterling versus the euro since June 2016 will continue to affect the euro value of UK originating revenues," it added.
"Due to the ongoing improvement in the economic outlook in our sphere of operations, we look forward, to another year of volume growth in our markets, but with higher fuel prices and weaker sterling. Nonetheless, we expect 2017 to be a year of strong cash generation and to see the continued strengthening of our balance sheet," commented the company's chairman John B McGuckian.