The latest national Eurobarometer report for Ireland has found little public support for following Britain out of the European Union.
On any so-called "Irexit", the poll showed only 25% agreed with the statement "Ireland could better face the future outside the EU".
A total of 67% disagree, ranking Ireland the 7th most in favour of remaining in the EU across Europe.
The survey found support for leaving the EU in only four countries – Slovenia, the UK, Cyprus and Italy.
The lowest level of support for leaving the EU was found in the Netherlands, which is holding a general election on 15 March.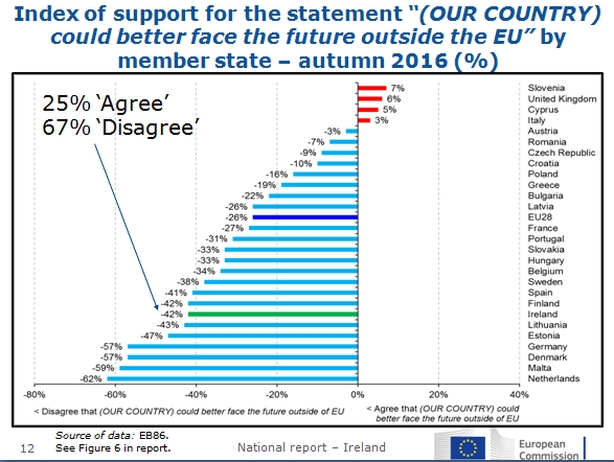 The EU's image among Irish respondents has also improved since the end of the bailout, with 55% of Irish respondents now having a positive image of the EU, against 13% who have a negative image.
Meanwhile 31% have a neutral image of the EU.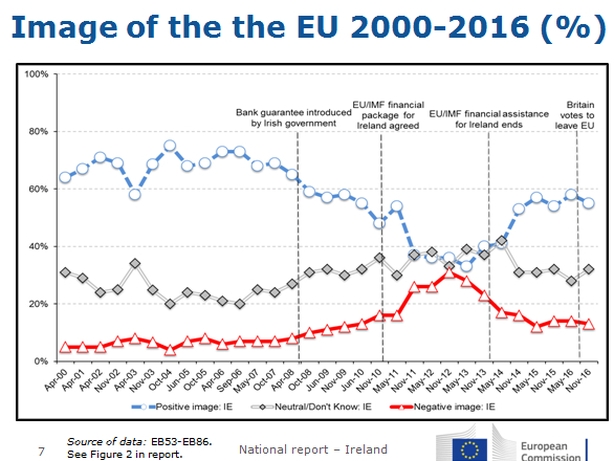 A total of 13% of respondents believed the economy will get worse this year – while 38% believe it will get better.
This is down from around 50% in the same survey a year ago.
However, the number of people who believe the economy will stay the same has increased over the past year, to stand at 45%.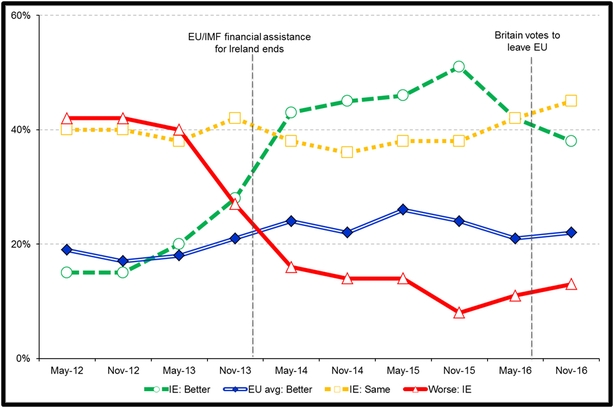 Speaking today about whether there was any spill-over of Brexit into Irish public opinion, the author of the report, Dr Stephen Quinlan, said: "I found no evidence here of any mushrooming Euroscepticism in Ireland.
However, a significant proportion of Irish people are distrustful of the EU.
There is a direct correlation between levels of education and levels of distrust in the EU - levels of trust rise in proportion to levels of education. We can also see that there is a not insignificant proportion of neutral opinion."
The Troika-led bailout of Ireland in the wake of the global financial crisis led to sharp fall in trust – and rise in distrust – in the EU among Irish respondents.
This position has reversed since the end of the bailout programme, with more people tending to trust the EU than those who tend not to trust it among the Irish.
However, the levels of distrust of the EU amongst the Irish are significantly higher today than they were before the financial crisis.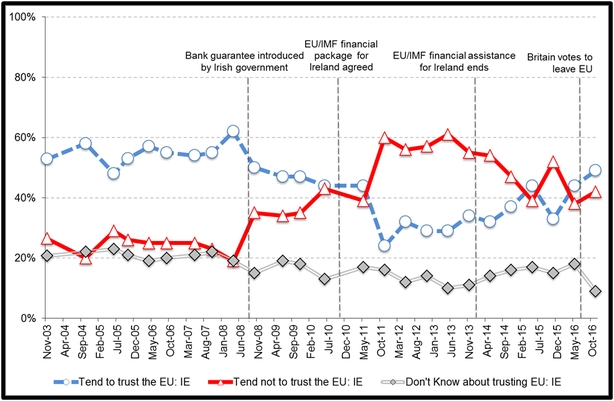 On the EU's main policies, 90% of those surveyed are in favour of freedom of movement of other EU nationals (EU average 81%) and 85% are "for" economic and monetary union, including the euro (EU average 70%).
Meanwhile, 75% of the Irish respondents favoured a free trade deal between the EU and the USA, compared to an EU-wide average of 53%.
Further enlargement of the EU – admitting new countries as member states – was supported by just 44% in Ireland, compared with 39% in the EU 28.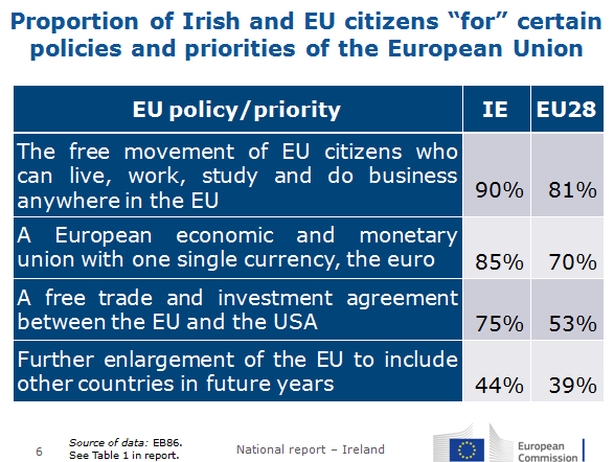 The latest Eurobarometer national report analyses data collected last November in over 1,000 face-to-face interviews in Ireland, as part of the 86th Eurobarometer survey of public opinion in EU states.