Royal Bank of Scotland today reported a sharp rise in losses as higher misconduct charges and restructuring costs underscored the challenges facing the lender nine years after it was bailed out in the world's biggest bank rescue. 
RBS, which owns Ulster Bank here, has not made an annual profit since 2007.
Today it booked £6.96 billion of losses for 2016, compared to a £1.98 billion loss the previous year.
RBS is in the midst of a vast, multi-year restructuring which includes asset sales, job cuts and wading through a series of legal scandals. 
"This is a strong core bank getting masked by all the sins of the past," the bank's chief executive Ross McEwan said on a conference call with reporters. 
RBS said 2017 will probably be the final year it makes a loss as it moves nearer to closing the darkest chapter in its 290-year history, which has seen it rack up more than £58 billion in losses so far. 
The UK lender also announced plans to cut £2 billion of costs over the next four years to help offset the challenge of a low interest rate economy that makes it harder for the bank to make money. 
Although RBS did not specify where the cuts would fall, they are expected to partly hit its branch network where the lender has already eliminated thousands of roles as more customers bank online.
RBS said its total income was moderately down, with the jump in losses mainly driven by a £5.9 billion charge of misconduct issues relating to its behaviour in the run up to the 2007-2009 global financial crisis. 
RBS took charges to set aside money to cover legal cases in the US where analysts expect it to pay the biggest regulatory penalty in its history for mis-selling US securities backed by toxic mortgage loans. 
Analysts have estimated the bank could have to pay the US Department of Justice as much as £9 billion this year.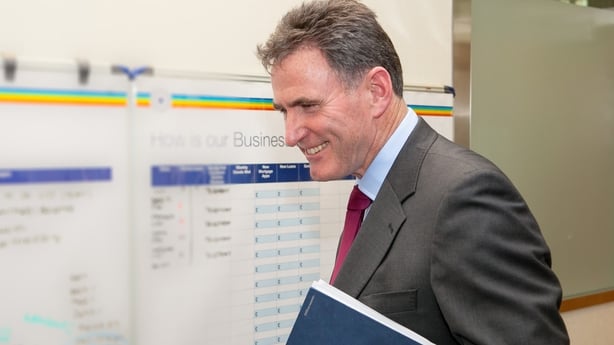 CEO McEwan said the bank has not begun negotiations with the US government on any settlement.
RBS was the only British lender to fail the Bank of England's stress test in 2016, a sign of how the bank's future is still being dictated by its past. 
But in some rare good news for RBS, the British government is pushing to free the bank from an obligation to sell its Williams & Glyn business to try to end a seven-year struggle to meet European Union state aid demands.
The bank will not know if the European Commission has approved the new state aid plan until the fourth quarter of this year at the earliest, the bank's chief financial officer Ewen Stevenson said. 
The UK government, which owns more than 70% of RBS, has said it will not resume selling its stake until the bank settles its US fine and resolves its state aid requirements.