Europe's economic recovery may be picking up speed but underlying inflation remains weak, European Central Bank rate setters said today.
Their comments added to signs that the ECB's ultra-loose monetary policy will not be scaled back any time soon.
With recent indicators from manufacturing to confidence pointing to accelerating growth, politicians and rate setters in the hawkish camp are increasingly calling on the ECB to at least open a discussion about rolling back stimulus.
But with elections due this spring in The Netherlands and France, few have publicly advocated immediate steps.
The ECB will be keen to avoid the suggestion of interference in political matters.
"The growth pattern is still very much conditional on a substantial degree of (ECB) accommodation," the bank's chief economist Peter Praet said in London.
"These economies are still fundamentally fragile so no complacency is the main message. The recent bouts of (political) uncertainty are a source of concern, and represent a downside risk to the economic outlook," Praet said.
Germany also faces national elections later this year and Italy is debating whether to bring its own vote forward.
Jens Weidmann, the powerful head of Germany's Bundesbank and a leading critic of the ECB's asset purchase programme, said today that growth risks had receded recently - while noting that underlying inflation was still weak and longer-term growth prospects in Germany were below average.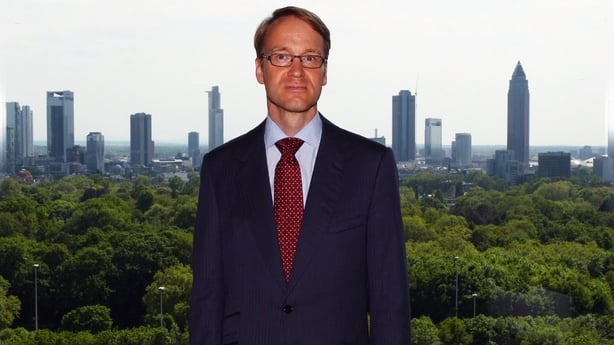 "The upturn in the euro zone has consolidated and is increasingly secure," Weidmann said in Frankfurt. "Indicators suggest that the recovery will continue."
ECB board member Yves Mersch said earlier this month that, given the firming recovery and the rise in inflation, the ECB should drop its reference to the possibility of lower rates - a move considered the first step in eventual policy tightening.
Weidmann said Mersch was right to make such a suggestion, but the German stopped short of advocating any immediate action, arguing that expansive monetary policy was appropriate.
Even Estonian central bank governor Ardo Hansson, another hawk inside the ECB, argued today for the need for several more months worth of positive surprises.
He added that relatively little time has passed since the ECB's December decisions so it needed to remain consistent.
The ECB extended its asset buys in December until the end of the year but also decided to reduce purchases by a quarter from April.
Several policymakers have argued that these measures gave the bank enough space and time to stay on the policy sidelines for most of the year, and it should not even start the discussion about its next steps until June.