Nestle's new chief executive has scrapped the food company's long-standing sales target as it reported disappointing annual results, adopting a more cautious tone in an uncertain environment. 
The maker of Kitkat chocolate bars and Nescafe coffee is aiming for 2-4% underlying sales growth this year, below analysts' estimates and the "Nestle Model" for growth of 5-6%. 
In his first public appearance since becoming CEO at the start of the year, food industry newcomer Ulf Mark Schneider said the lower target reflected economic uncertainty. 
"This is a volatile and still somewhat deflationary environment," Schneider told reporters at the company's Vevey headquarters. "We felt this was wise and prudent." 
The earnings from Nestle are the latest in a series of tepid results from consumer goods groups which have blamed weakness in the emerging markets that had previously fueled their growth. 
Unilever cited problems in Brazil and demonetisation in India, while Danone pointed the finger at tough conditions in China.
In 2016, Nestle's net profit fell and sales rose less than expected, hit by slowing emerging markets and deflation. 
Schneider replaced the "Nestle Model," which the Swiss company has missed for four years in a row, with the slightly vaguer goal of "mid-single-digit organic growth and significant structural cost savings by 2020". 
He said he expects pricing to improve this year and plans to use a combination of cost-cutting and portfolio management to help hit his mid-term targets. 
The company, which also makes Gerber baby food and Perrier water, forecast a "stable" trading operating profit margin in 2017, due to expectations for increased restructuring costs of around 500 million Swiss francs.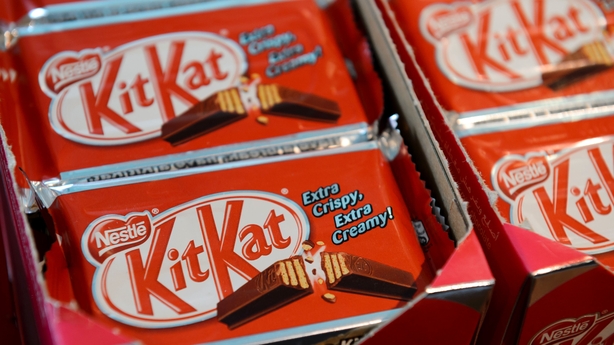 Nestle, the world's largest packaged food group, reported 2016 sales of 89.5 billion Swiss francs, up 3.2% on an organic basis. 
That was below the 4.2% growth seen in 2015 and marks the fourth time Nestle has missed its model for 5-6% growth. 
Analysts on average were expecting 2016 growth of 3.4%, according to a Reuters poll. 
Net profit fell to 8.5 billion francs, well short of the average estimate for 9.59 billion francs in the poll, hit by a one-off non-cash adjustment to deferred taxes and an inventory level adjustment at Nestle Skin Health. 
Nestle proposed to increase its dividend to 2.30 francs per share, after 2.25 francs last year. 
It said that growth in emerging markets slowed to 5.3% from 7% a year ago, hit by continuing problems at the Yinlu drinks business in China.