The future of Britain's new Moorside nuclear plant was thrown into doubt today after Toshiba, which is developing the project with France's Engie, said it planned to pull out of the construction work.
Toshiba, which earlier delayed reporting its earnings, posted a $6.3 billion hit to its US nuclear unit, Westinghouse.
"Toshiba will consider participating in the (Moorside) project without taking on any risk from carrying out actual construction work," it said in a presentation to investors.
The UK needs to invest in new infrastructure to replace aging coal and nuclear plants set to close in the 2020s, but has struggled to get large projects built, especially nuclear, due to the costs involved.
EDF's £18 billion Hinkley Point C nuclear project in southwest England got the final go-ahead in 2016 after several years of delay, but only after securing backing from the French government.
Engie also said today it was still looking for partners willing to share the risk of investing in the Moorside project.
UK business and energy minister Greg Clark said the government is committed to nuclear as an important part of Britain's energy mix.
"The UK is one of the most attractive countries to invest in new nuclear and we continue to work closely with partners to see Moorside built," he said.
NuGen, the joint venture developing the plant, said today Toshiba "remains committed to developing NuGen's Moorside Project", and that the venture "will continue to progress plans to develop (the project)".
NuGen plans to build three nuclear reactors at the Moorside site on the coast of Cumbria, northwest England, using Westinghouse technology currently being assessed by Britain's nuclear regulator.
The three reactors would have a total generating capacity of up to 3.8 gigawatts, covering around 7% of Britain's electricity demand.
Earlier this month, sources said Toshiba planned to exit the $15-20 billion project.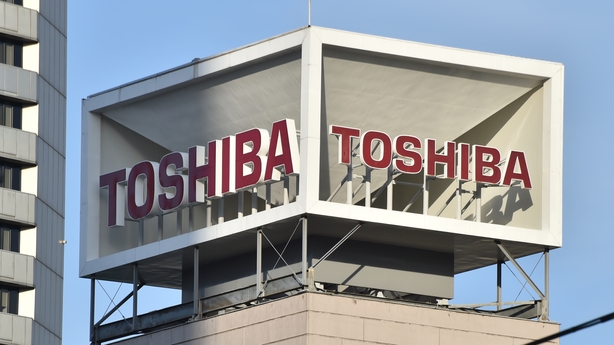 Last year, the company was said to be in talks with Korea Electric Power Corp (KEPCO) about buying all or part of its stake in NuGen.
Toshiba said NuGen's fixed asset balance was worth £210m.
Meanwhile, after a day of delays and confusion, Toshiba said it would book a $6.3 billion hit to its US nuclear unit, a writedown that wipes out its shareholder equity and leaves the loss-making group scrambling for capital.
Highlighting the scale of its financial concerns, Toshiba also ramped up plans to raise cash.
It said it would consider selling most, even all, of its stake in its prized flash-memory chips business, plus its troubled nuclear business Westinghouse.
Toshiba had previously yielded only to selling just under 20% of its NAND memory unit, which makes chips for mobiles and tablets and is its most valuable business.
"We are considering various offers for the chips business and we will act flexibly - even if that means giving up a majority of the unit," chief executive Satoshi Tsunakawa said.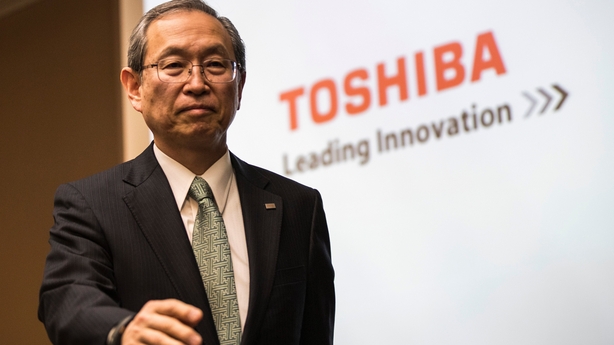 Earlier, the battered conglomerate rattled investors by failing to release its earnings on schedule.
It said initially that it was 'not ready' and then announced later it needed more time to probe its Westinghouse nuclear business after internal reports had uncovered potential problems.
The figures eventually released were numbers that have yet to be approved by its auditor and Toshiba cautioned investors that a major revision was possible.
Fully audited numbers are now not due till March 14, after the firm was granted a reprieve for its formal filing by Japanese regulators.
Toshiba announced the first top-level departure since the nuclear problems were uncovered in December - chairman Shigenori Shiga, a former Westinghouse boss brought in to the top role last year after a $1.3 billion accounting scandal in 2015 shook up Toshiba's upper ranks.
Westinghouse, bought from the British government in 2006 at twice the expected price, and a small US deal agreed in 2015, proved too much for Toshiba, as cost overruns at the US business piled up and costly delays lengthened.
Toshiba sought to draw a line under its decade-long nuclear nightmare today by pulling out of nuclear power plant construction overseas, reducing its involvement to reactors and services, a major step back.
Reuters reported this month that Toshiba was seeking at least a partial exit from ventures in Britain and India, a blow to both countries' nuclear plans.
"Looking at today's numbers it is difficult to say that the acquisition was the correct choice," Tsunakawa said.
Toshiba said it expected to book a 499.9 billion yen ($4.4 billion) net loss for the nine months to December, and a 390 billion yen net loss for the full year.
It also ended 2016 with negative shareholder equity due to the 712.5 billion yen nuclear writedown - a charge that was first flagged in December last year.