Germany expects solid growth at the start of 2017, driven by manufacturing and booming construction.
But uncertainties over Brexit and US President Donald Trump's trade policies clouded the outlook for its export-orientated economy.
The Economy Ministry's monthly report came as a survey showed the mood among German investors deteriorated more than expected in February.
This was partly due to concerns about the outcome of talks on Britain's departure from the European Union.
In addition, US President Donald Trump's declarations in favour of protectionism have alarmed politicians and managers in Europe's biggest economy, which derives nearly half its economic output from exports.
Trump's top trade adviser has also accused Germany of using a "grossly undervalued" euro to gain advantage over the US and its own EU partners.
Chancellor Angela Merkel has rejected the suggestion, noting the European Central Bank is in charge of the euro, not Germany.
The German economy grew by 0.4% in the final quarter of 2016, data showed today, as increased state spending on refugees, higher private consumption and construction in Europe's biggest economy more than offset a drag from trade.
The growth figure for the final three months of 2016 came in slightly weaker than the consensus forecast in a Reuters poll of 0.5%. Still, it marked a sharp rebound after the German economy barely expanded over the summer.
The overall growth rate for 2016 was confirmed at 1.9%, the strongest rate in half a decade.
The German Economy Ministry said in its monthly report that rising orders in manufacturing and construction signalled further economic expansion in the first quarter of 2017.
"However, uncertainties remain especially in the trade environment," the ministry said. "The outlook for the global economy remains subdued."
That view was echoed by the Mannheim-based ZEW institute which said its economic sentiment index fell to 10.4 from 16.6 points in the previous month. This undershot the Reuters consensus forecast for a less pronounced drop to 15.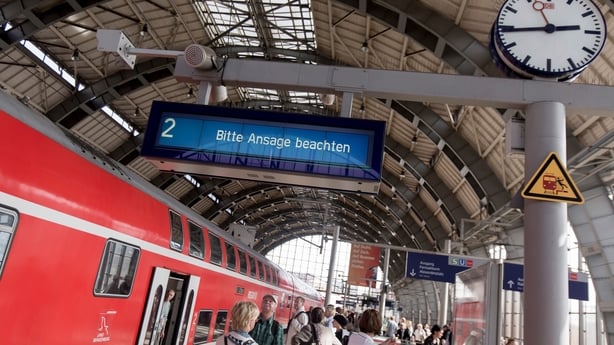 A separate gauge measuring investors' assessment of the economy's current conditions edged down to 76.4 points from 77.3 in January.
This was also weaker than the Reuters consensus forecast which predicted a nearly stable reading of 77.2.
ZEW President Achim Wambach said the drop in expectations was probably the result of recent weaker-than-expected figures from industrial production, retail sales and exports.
"Political uncertainty regarding Brexit, the future U.S. economic policy as well as the considerable number of upcoming elections in Europe further depresses expectations," he said.
"Nevertheless, the economic environment in Germany has not significantly worsened," Wambach added.
Germany's consumption-driven upswing is expected to continue in 2017, although a rebound in inflation means consumers will have less money to spend than in previous years.
For 2017, the German government expects weaker growth of 1.4% due to fewer work days and weaker exports.
German consumer prices, harmonised to compare with other European countries, rose by 1.9% on the year in January, separate data released today showed.
This was the highest annual inflation rate since July 2013.
On a non-harmonised basis, consumer price inflation for January was also confirmed with the national index rising by 1.9% from the previous year.
Analysts said the pick-up was largely due to food and energy prices, adding that core inflation was unlikely to surge in the coming months and wage growth was still subdued in Germany.
.