The European Commission has predicted that domestic demand will remain the main driver of the Irish economy on the back of an improving labour market and higher wages.
In its latest economic forecast, the Commission predicted that Irish GDP growth is set to remain firm over the next couple of years but will gradually decelerate amid heightened risks and an uncertain global backdrop.
It has pencilled in GDP growth of 4.3% for 2016, 3.4% for 2017 and 3.3% for 2018.
This is double the rate of growth for the EU as a whole - forecast at 1.6% this year - but it is not the highest in the 28 country bloc.
That honour now belongs to Romania, where GDP is forecast to grow by 4.4% this year and 3.7% in 2018.
Investment activity in also predicted to remain firm. The EU noted that, when aircraft and research and development are excluded, investment increased by 5% in the third quarter of 2016. This was mostly due to construction activity.
"Residential property is expected to remain the main driver of investment, supported by government policies," the Commission's report stated.
It also said that the country's employment trends are positive, and noted that the jobless rate had fallen to 8% in 2016 despite an increase in the labour force and net inward migration. The unemployment rate is forecast to fall to 6.7% in 2018.
This compares to an average unemployment rate of 9.6% for the EU 28 this year.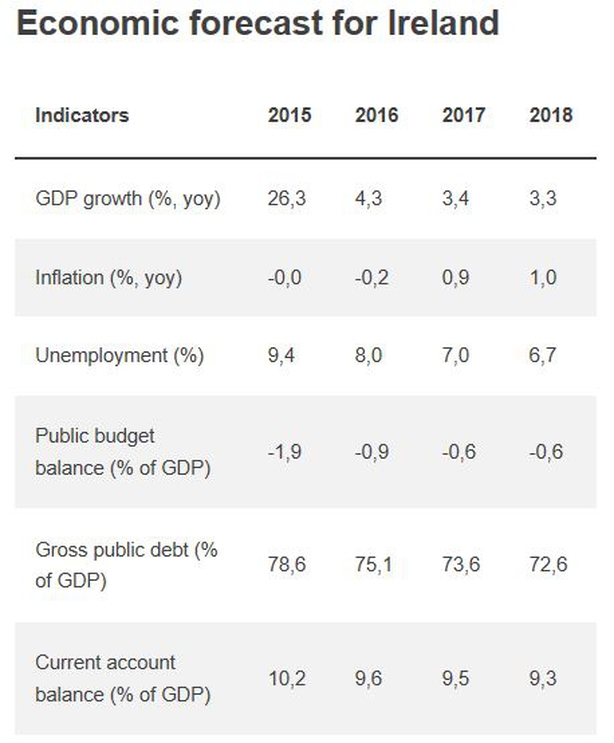 Today's report said that export growth slowed last year, with some of the fall blamed on a weak sterling as the UK accounts for about 17% of total Irish exports.
It also said that risks grew last year, including uncertainties related to the UK's Brexit vote and those surrounding future US tax and trade policies.
"Adverse news could negatively affect consumer confidence and economic activity. The future evolution of the activities of multinationals remains uncertain and could impact GDP growth in both directions," the Commission stated.
Ireland's inflation rate is expected to pick up to 0.9% this year, having been negative last year at -0.2%.
It is forecast to nudge up to 1% in 2018, still only half the target rate set by the ECB. The forecast for this year is still significantly below the EU average inflation forecast of 1.7%
Today's EU report also said that the country's public finances are forecast to continue improving - with the deficit falling from -0.9% last year to -0.6% this year. This is less than half the EU average deficit figure of -1.4% forecast for this year.
The forecast leaves the Irish deficit unchanged in 2018.
The debt to GDP ratio continues to improve - thanks to the unusually high level of GDP growth recorded under new statistical methods in 2015. The ratio was expected to be 75% last year, dropping to 73.6% this year and 72.6% in 2018.
This compares to a forecast EU average debt to GDP ratio of 90% for this year.
The current account balance for Ireland is exceptionally high - 9.6% for 2016, 9.5% forecast for this year and 9.3% for 2018.

EU sees euro zone economy risk, sharp drop in UK growth
The European Commission said today that uncertainty about US policies, Brexit and elections in Germany and France would take their toll on the euro zone economy this year.
In its latest economic forecast, it predicted that euro zone economic growth would lose some speed this year before rebounding in 2018. It also saw a sharp growth drop ahead in non-euro zone and EU-leaver Britain.
The British economy will nearly halve its expansion by 2018, the European Union executive said in a broad series of economic forecasts.
Overall growth in the 19 country euro zone would slow to 1.6% this year from 1.7% in 2016, but would gain speed in 2018 when the bloc's gross domestic product (GDP) is expected to increase by 1.8%.
Germany, the bloc's leading economy by far, is expected to see its GDP growth slow to 1.6% this year from 1.9% in 2016. Growth will accelerate from 1.2% to 1.4% in France, and remain stable at 0.9% in Italy.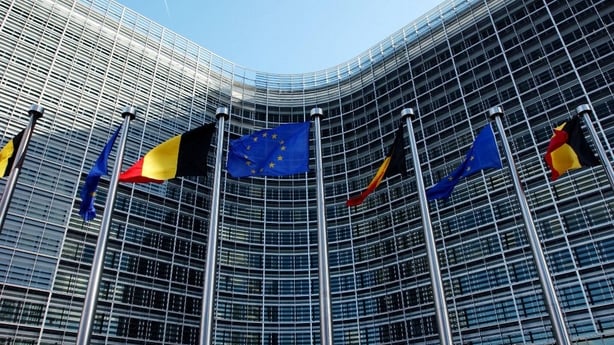 Despite the slowdown from 2016, the euro zone growth forecasts were slightly revised up for this year and 2018 from the Commission's previous estimates released in November.
Then, euro zone GDP was estimated to grow 1.5% this year and 1.7% in 2018.
The revision was due to "better-than-expected performance in the second half of 2016 and a rather robust start into 2017," the Commission said, noting however that "the outlook is surrounded by higher than usual uncertainty."
The "still-to-be-clarified" intentions of US President Donald Trump in "key policy areas" are seen as the first cause of uncertainty for the bloc's economy.
In the near term, the possible package of US fiscal stimulus "could provide a stronger boost to global GDP than currently expected", the Commission said.
However, in the medium term "potential disruptions associated with shifting US positions on trade policy could damage international trade," it said.
The Commission is also waiting for clarifications from the Trump administration on banking regulation, tax and fiscal cooperation, Pierre Moscovici, the economics commissioner, told a news conference.
The European Union will face other political risks caused by divorce negotiations with Britain, likely to begin in March, and elections in several EU countries this year, including Germany and France, the Commission said.
The UK is expected to pay a higher cost for the political uncertainty surrounding Brexit talks. Its GDP growth is forecast to decline from 2% in 2016 to 1.5% this year, and to further slow down to 1.2% next year.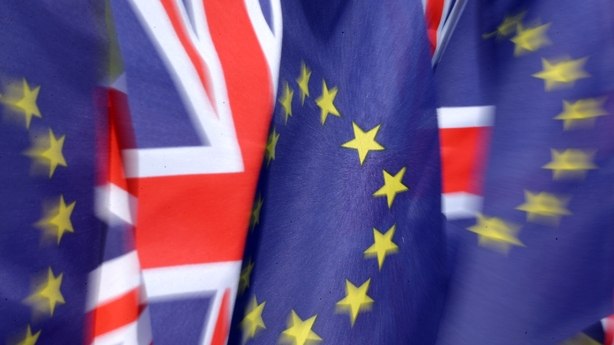 Britain's "business investment is likely to be adversely affected by persisting uncertainty while private consumption growth is projected to weaken as growth in real disposable income declines," the Commission said.
The UK unemployment rate is seen rising slightly to 5.6% in 2018 from 4.9% last year, while inflation will increase steeply to 2.5% this year and 2.6% in 2018.
The gloomy forecasts on the British economic growth are, however, better than previously estimated by the Commission which had predicted in November Britain would grow 1.9% last year and only 1% this year. The 2018 forecast is unchanged.
Consumer prices in the euro zone are forecast to markedly pick up this year, as inflation will surge by 1.7% from 0.2% last year.
The 2017 estimate is higher than the 1.4% inflation growth predicted by the Commission in November. The European Central Bank predicted in December inflation would grow 1.3% this year.
But euro zone inflation is expected to slow again in 2018 to 1.4% and core inflation, which excludes more volatile prices, is set to rise only gradually.
This is still "short" of the ECB's target of an inflation "below, but close to 2%", the Commission said.
However, this is not seen as sufficient to keep the ECB's stimulus plan to continue indefinitely.
"With inflation picking up from low levels, we cannot expect current monetary stimulus to last forever," the Commission's vice president Valdis Dombrovskis said, urging euro zone states to continue structural reforms.