The European Central Bank has rejected US accusations of currency manipulation and warned that deregulating the banking industry could sow the seeds of the next financial crisis.
ECB President Mario Draghi argued that lax regulation had been a key cause of the global financial crisis a decade ago.
He said the idea of easing bank rules was not just worrisome but potentially dangerous, threatening the relative stability that has supported the slow but steady recovery in the euro zone.
Mr Draghi's words are among the strongest reactions yet from Europe since US President Donald Trump ordered a review of banking rules with the implicit aim of loosening them.
That raises the prospect of the United States pulling out of some international cooperation efforts.
"The last thing we need at this point in time is the relaxation of regulation," Draghi told the European Parliament's committee on economic affairs in Brussels.
The ECB supervises the euro zone's biggest lenders.
Mr Draghi also rebuffed accusations by Mr Trump's top trade adviser that Germany, the euro zone's biggest economy, is using a grossly undervalued currency to take advantage of the United States.
He argued instead that economic weakness is the main reason for the weak euro.
Germany runs a massive trade surplus with the United States and Trump administration trade adviser, Peter Navarro, said it was now exploiting this to America's detriment, de facto accusing Berlin of currency manipulation.
But Germany does not set monetary policy and has repeatedly complained that ECB policy is actually too easy, calling on Draghi to end its massive stimulus programme.
The ECB chief also said no policy tightening was coming as growth was still weak and faced risks, while the inflation spike is still temporary, all indicating that monetary support is still needed.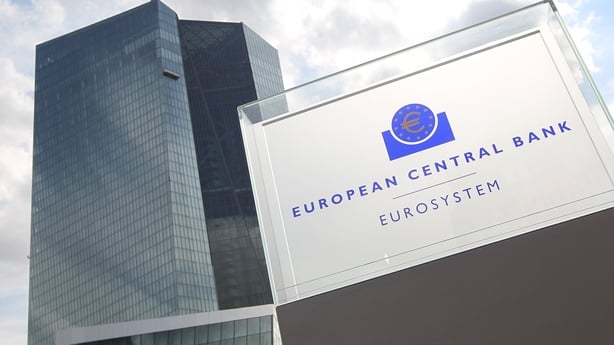 Euro zone inflation hit 1.8% in January and is likely to exceed the ECB's target of almost 2% in the coming months, firming resistance in Germany, the euro zone's biggest economy, to the ECB's policy of easy cash.
But core inflation, which excludes energy and food prices, is still low and Draghi pointed to weak underlying trends as a key reason for continued monetary support.
"So far underlying inflation pressures remain very subdued and are expected to pick up only gradually as we go on," he said. "This lack of momentum in underlying inflation reflects largely weak domestic cost pressures."