The Central Statistics Office's latest Survey on Income and Living Conditions shows that incomes were more equally distributed in 2015 compared with 2014.
The CSO said that an individual's real median annual equivalised disposable income - income after tax and including social transfers - was up 6.2% to €19,772.
.@seanwhelanRTE lets the 'Gini' out of the bottle to explain changes in disposable income and inequality pic.twitter.com/lWgDcPdMTS

— RTÉ Business (@RTEbusiness) February 1, 2017
Meanwhile, households' real median disposable income rose by 5.6% in 2015 to €37,322.
The CSO also said the "at risk of poverty rate" of 16.9% and consistent poverty rate of 8.7% were "not statistically significantly" changed when compared to 2014.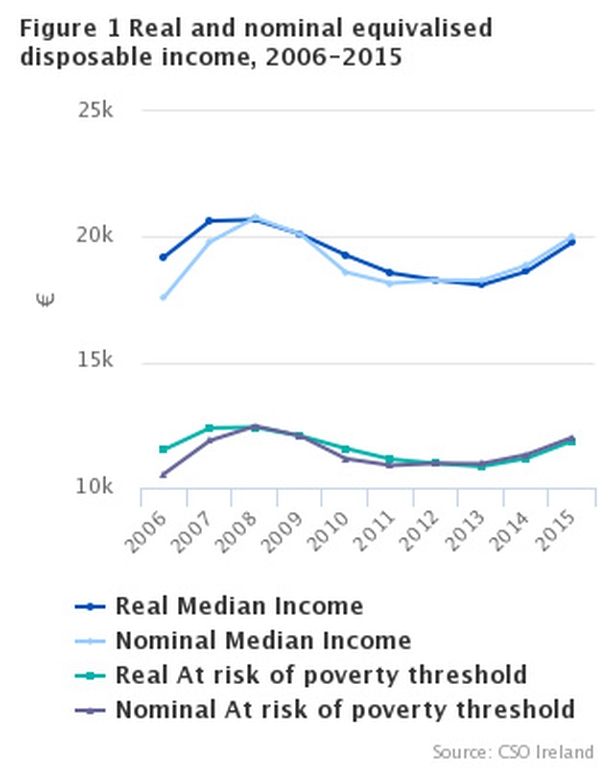 The Survey on Income and Living Conditions covers a broad range of issues in relation to income and living conditions and is the official source of data on household and individual income.
It also gives a number of key national poverty indicators and rates of enforced deprivation, which includes people not being able to keep their homes adequately heated, or have two pairs of "strong shoes".
The CSO noted that the real median disposable income increased for most socio-economic groups in 2015, with the main exception being that of those unable to work due to illness or disability.
People with the highest level of education continued to have the highest real median disposable income at €32,201 in 2015, up from €30,408 in 2014.
And people who were unemployed had the lowest median disposable income at €12,747, up slightly from the 2014 figure of €12,593.
Today's figures also show that men's median disposable income was 3.7% higher than women's - €20,014 compared to €19,292.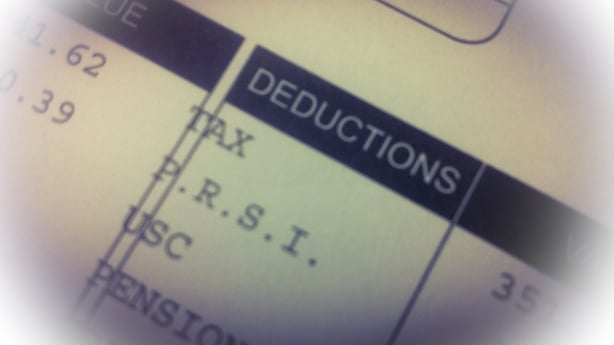 Incomes for those living in the south and east were 14.6% higher than for those living in the border, midland and western areas.
Today's CSO survey also shows that those at risk of poverty in 2015 were people who were unemployed or those living in households where there was no person at work.
The CSO noted that the "at risk of poverty" rate for households with more adult and one or more children aged under 18 was 36.2%.
If all social transfers were excluded from income, the "at risk of poverty" rate would have been 46.3%, down from the 48.3% rate in 2014, the CSO added. That figure had peaked at 50.1% in 2011.
25.5% of the population experienced two or more types of enforced deprivation in 2015, down from 29% in 2014 and a low of 11.8% in 2007.
The CSO said that those living in households with one adult and one or more children had the highest deprivation rate at 57.9%, while those who were not at work due to illness or disability also had deprivation rates of over 50%.
Today's CSO figures also show that the "Gini coefficent" - the relationship between cumulative shares of the population and the cumulative share of total income received by them - was 30.8% in 2015, down from 32% in 2014.

In its notes, the CSO said that if there was perfect equality (i.e. each person receives the same income) the Gini coefficient would be 0%. A Gini coefficient of 100% would indicate there was total inequality and the entire national income was in the hands of one person.
Commenting on today's figures, Social Justice Ireland. noted that almost 790,000 people in Ireland are surviving on incomes of less than €11,863 a year.
"Also of concern is that 406,612 of the people who are subsisting on this very low income are being deprived of basic essentials. The number of people experiencing deprivation is more than twice what it was in 2007," Michelle Murphy, Research and Policy Analyst at Social Justice Ireland, said.
Ms Murphy said that if the Government wishes to address and close this income divide future policy must prioritise those at the bottom of the income distribution.
"These policies must be designed to address the wide variety of households and adults in poverty," she added.