Royal Dutch Shell has agreed to sell a package of oil and gas fields to private equity-backed Chrysaor for $3.8 billion.
The deal will give the Anglo-Dutch group a major boost in its drive to reduce debt following the acquisition of BG Group.
The deal, which accounts for more than half of Shell's production in the North Sea, will breathe new life into the ageing North Sea where production has steadily declined since the late 1990s and where oil majors such as Shell and BP have struggled to generate profits.
Shell earlier today announced the sale of a stake in Thailand's Bongkot gas field to Kuwait Foreign Petroleum Exploration Company for $900m.
The company said in a statement the North Sea deal included an initial consideration of $3 billion and a payment of up to $600m between 2018-2021 subject to commodity prices, with potential further payments of up to $180m for future discoveries.
The deal is still subject to partner and regulatory approvals, with completion expected in the second half of 2017.
Chrysaor, led by veteran North Sea executive Phil Kirk and backed by private equity funds Harbour Energy and EIG Global Energy Partners, will become the largest independent operator in the North Sea after the deal's completion.
"This acquisition reflects Chrysaor's and Harbour's belief that the UK North Sea has material future potential for oil and gas production," Kirk said in a statement.
The package includes Shell's interests in Buzzard, north of Aberdeen, a relatively new field that feeds into the global Brent oil benchmark, as well as a 10% stake in the BP-operated Schiehallion oilfield some 110 miles (180 km) west of the Shetland Islands.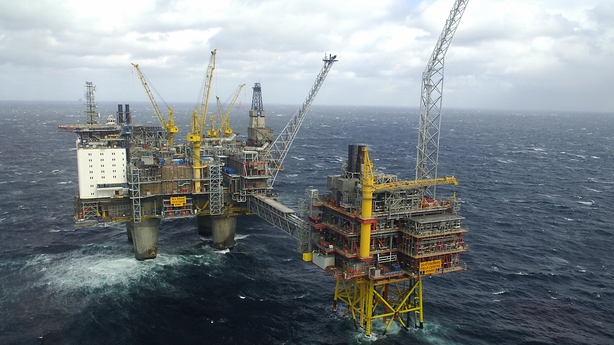 Other fields include Beryl, Bressay, Elgin-Franklin, J-Block, the Greater Armada cluster, Everest, Lomond and Erskine, Shell said.
Around 400 staff are expected to transfer to Chrysaor on completion of the deal.
The assets represent some 115,000 barrels of oil equivalent of production per day (boe/d), more than half of Shell's total UK North Sea production of 211,000 boe/d last year.
"This deal shows the clear momentum behind Shell's global, value-driven $30 billion divestment programme. It builds on recent upstream divestments in the Gulf of Mexico and Canada," Shell's chief financial officer Simon Henry said in a statement.
"It is also consistent with Shell's strategy to high-grade and simplify our portfolio following the acquisition of BG," he added.