Diageo, the world's largest distilled drinks company, today reported better than expected sales growth in the last six months.
The company said it was boosted by improvements in its US business and the strong US dollar.
The maker of Guinness, Baileys, Johnnie Walker Scotch and Smirnoff vodka said sales rose 4.4% in the six months ended December 31.
This was above the average of analysts' estimates for growth of 3.4%.
Earnings per share, before one-off items, rose 21% to 62 pence, as higher operating profit and favourable exchange rates more than offset the impact of disposals and a higher tax rate.
Diageo said that Guinness net sales in Europe were up 2% supported by a solid performance of Hop House 13 lager.
The company said that net sales grew by 1% in Ireland, with high double digit growth in the premium and reserve brands contributing to a share gain in spirits.
"Irish Guinness net sales were up 3%, driven by the continued success of Hop House 13 Lager which had a strong performance in the on-trade and more recently in the off-trade," the company added.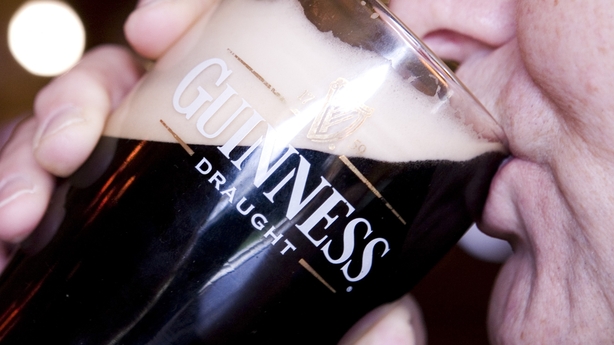 In Africa, the company said the performance of its beer brands were impacted by the significant increase in duty on bottled beer in Kenya with Guinness down 22% and the comparison against the double digit growth in Guinness in Nigeria the same time the previous year.
Overall, Guinness net sales were broadly flat in the six month period.
The company noted that a decline in Africa was partially offset by growth in Ireland driven by the success of Hop House 13 Lager, an innovation of the 'Brewers Project'. In Latin America and Caribbean net sales were up high teens.
Meanwhile, Baileys' net sales grew 3%, driven by 10% growth in its biggest market, Europe, following an exceptional on-trade execution and positive results of a new advertising campaign.
The company said it remains confident it can achieve its full year goal of "consistent mid-single digit top line growth and 100 basis points of organic operating margin improvement in the three years ending 30 June 2019".
"We have delivered a strong set of results with broad based improvement in both organic volume and top line growth and this positive momentum demonstrates continued effective execution of our strategy," commented the company's chief executive Ivan Menezes.
"Highlights this half include improved performance in our US spirits business and across our scotch portfolio, driven by our focus on marketing with impact, innovating at scale, expanding our route to consumer, and winning in reserve," he added.