Banco Santander opened Spain's bank reporting season today with a 4% rise in its 2016 net profit, as improved results in Brazil helped offset a weak performance in Britain. 
Santander, the euro zone's biggest bank by market value, reported net profit for the full year of €6.2 billion, beating the average of analysts' estimates calculated by Thomson Reuters of €6.12 billion. 
For the fourth quarter, the lender announced a net profit of €1.6 billion.
This compared to a profit of €25m in the same quarter last year when its earnings were hit by a €600m mis-selling compensation bill in Britain. 
Unlike most Spanish banks, Santander will not be affected by a recent European court ruling that may force other lenders to reimburse customers up to €4 billion over mortgages with interest rate floors that were not clearly explained. 
Despite falling net profit in Britain, Santander's operations in its biggest territory Brazil and other Latin American markets helped it endure a squeeze on margins in Europe that is pressuring its banking peers. 
In Britain the bank's net profit was down almost 15% over the year, due mainly to the fall in the value of the sterling, which has sunk to a near three-decade low since the Brexit vote in June.
For 2016, Santander's net interest income, a measure of earnings on loans minus deposit costs, was €31.1 billion, down 3.4% from a year ago, mirroring pressure on margins experienced by other Spanish banks. 
Analysts had expected NII to come in at around €30.8 billion.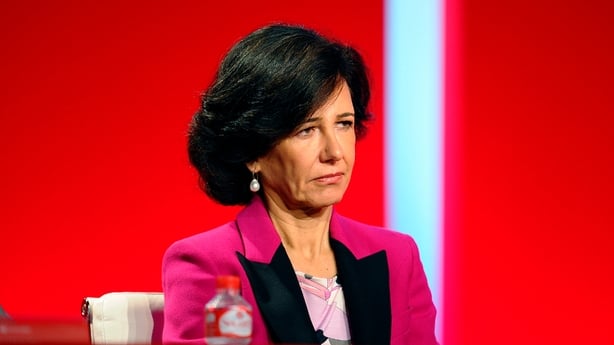 "We have many opportunities to grow profitably in Europe and in the Americas, in an environment which we expect will be volatile but in general better than in 2016 in our principal markets," Santander boss Ana Botin said. 
Santander also reaffirmed its 2018 targets such as boosting its fully-loaded core capital ratio, a closely watched measure of a bank's strength, to just above 11%, after it ended the year with a ratio of 10.55%.