Minister for Finance Michael Noonan has said there are issues around Irish tax but the Government is addressing these and has been doing so since 2012.
Speaking at the Irish Times Corporate Tax Summit, Mr Noonan said that OECD recommendations have been implemented and that Ireland is tax compliant, tax transparent and in "good order with our colleagues around the world".
The Irish tax system is open, modern and international, he added.
The minister also said he believes US President Donald Trump will transform the corporate tax system in the US, but the exact details are still unknown.
The Minister also said he estimates that it will take at least six years to negotiate Britain's exit from the EU.
Michael Noonan said the negotiations would be difficult, including issues such as North-South arrangements.
He also cited trade across the Irish Sea, which is worth €1.2 billion a week and underpins 400,000 jobs in Britain and Ireland.
However, he noted that Ireland is fully committed to the European project and wants to ensure that no damage is done to it as a result of the negotiations with the UK.
He said the advantage - if it could be called an advantage - was that the negotiations would probably take "six years minimum" between the UK's talks to leave the EU, and the negotiation of an alternative trade agreement between the UK and the EU.
Read Min Noonan's speech to #ITtaxsummit https://t.co/hF76bMYNDU pic.twitter.com/Xrvq78sYUU

— Dept of Finance IRL (@IRLDeptFinance) January 24, 2017
Mr Noonan said the Government was assessing all the options and had already prepared a number of papers on various aspects, as well as holding bilateral meetings with key people.
Asked about the impact of the incoming Trump administration in the US, Mr Noonan said there was going to be tax reform, and that would have happened even if Hillary Clinton had won the election.
He said the US Treasury has already been working on this for 18 months and is down to discussing precise numbers, though the exact details have still to come.
However, he said there was quite a short window of opportunity or around six months for reforms to be introduced - as America would soon be entering a new electoral cycle, where people would be influenced by consituents and voting patterns.
He said he would expect "early announcements" - and noted that Ireland would obviously need good relationships with the new Trump administration.
However, he said he did not think American tax reforms would affect Ireland very adversely because in practice the American tax rate is zero - because firms do not pay the 35% rate until they repatriate profits.
He said that when he was in Davos last week, he had been surprised at how optimistic the mood was.
Asked about the proposed Common Consolidated Corporation Tax Base (CCCTB) reforms, Mr Noonan said one of his primary concerns was that the initial proposals would narrow rather than widen the corporation tax base - so the government woud have to collect more tax elsewhere. He said they would not agree with that.
He noted that six EU parliaments - including Ireland - have already had difficulties about even discussing the CCCTB changes on the basis that they are contrary to the Euroepan principle of subsidiarity.
However, he said the Government would engage fully on all issues.
Meanwhile, the EU Tax and Customs Commissioner has said that if the UK left the EU there would have to be what he called redefined customs procedures.
Speaking in Dublin Pierre Moscovici said any arrangements could be technical and would be as swift and efficient as possible.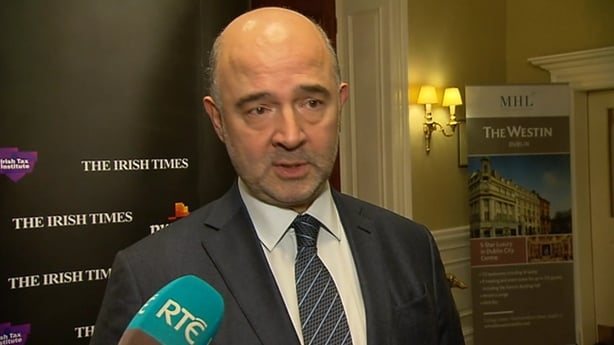 The Commissioner also insisted that Ireland was not a tax haven, which he defined as a country that did not play by the rules.
He predicted that post-Brexit the UK would not become one either.
Mr Moscovici denied that the Commission had our low corporate tax rate in its sights.
He said the Irish corporation tax rate of 12.5% was compatible with the proposed Common Consolidated Corporate Tax Base.
He described the global growth in populism as a threat to the achievements of the last 50 years in Europe and how it responded would define the future of Europe and the West.
Brexit a huge challenge for Ireland - O'Leary
Ryanair boss Michael O'Leary has said that Brexit is going to be a huge challenge for Ireland and for its economy.
Speaking in Dublin, he said that it is going to be a huge challenge because it means there is going to be a weaker sterling, resulting in significantly fewer UK visitors in Ireland.
He also warned that there is a real danger that in a hard Brexit, as it would mean a hard border between Ireland and the UK. He said it would also be the big challenge for them as an airline.
Mr O'Leary said the final outcome remains hugely uncertain but it is quite clear that the British government do not have "a bull's notion" where they are going or how they are going to get there.
He said in the meantime they were going to have weaker sterling and lower fares.
He also said there would be slower UK growth and European growth while this uncertainty was hanging over them.