The Taoiseach has said Ireland will remain an enthusiastic member of the European Union and the single market, and wants to be a key player in its evolution.
Enda Kenny was speaking at the second European Financial Forum at Dublin Castle, which is being dominated by matters relating to Brexit. 
Mr Kenny defended the Government's response to Brexit, which he said started the day after the results of the June vote became known.  
He said the Government was prepared to negotiate "hard and fair" when it comes to the terms of Britain's departure from the EU. 
The Taoiseach said Ireland had proven capable of dealing with profound problems in the past and it would do so again in the face of challenges posed by Brexit. 
Mr Kenny welcomed the clarity from Theresa May in her Brexit 12 point plan last week. 
He also repeated his pitch to the European Banking Authority to consider moving its headquarters to Dublin from London.
Earlier, the chief executive of IDA Ireland Martin Shanahan said financial services companies were advanced in their plans to move certain operations out of London and he said he believed decisions were impending very soon.
He said Ireland stood to be the beneficiary of good quality jobs and operations leaving London and he denied that Ireland had missed the boat with the announcement by one bank that it was moving 1,000 jobs to Paris.
Mr Shanahan said the outcome of the UK Brexit referendum had created the need for companies to reconsider their European footprint. 
Today's Forum is organised by IDA Ireland in association with the Financial Times and IFS Ireland.
Described as a European platform for top decision-makers and influencers in the public, private and regulatory fields of financial services, the Forum will explore the disruptive forces that are shaping the financial sector into the future and discuss where opportunities lie.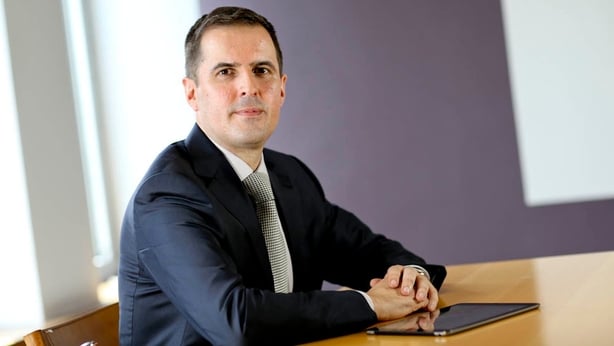 "Ireland's proposition of EU market access, regulatory passport, global product distribution, cost effectiveness, deep domain knowledge, innovative technology offerings and superior customer service together with English language and a Common Law system will continue to prove compelling to financial services companies," Mr  Shanahan stated. 
Ireland is home to over 400 IFS companies, both foreign-owned and indigenous, spread throughout the country. The sector employs over 40,000 people.
Central Bank Governor Philip Lane also addressed the forum, focusing his comments on the implications of globalisation and technological disruption on the financial sector.
Mr Lane said the expansion of emerging economies was a central factor in many of the topics on the international financial agenda.
He said: "The high degree of interconnectedness across currency areas makes it imperative that central banks actively cooperate in the sharing of information and analysis, so that monetary policy decisions are based on a shared understanding of current macro-financial conditions."