A hard Brexit could result in a 30% drop in exports to the UK and add €20bn to the national debt over the next decade, according to the Department of Finance.
Officials from the department have told the Oireachtas finance committee the impact on the economy could also lead to up to 40,000 job losses.
The department said the significant drop-off in trade with the UK following a hard Brexit would be driven by higher tariffs on Irish goods.
Assistant Secretary of the department John McCarthy said the potential jobs losses would come "in the first instance from trade channels".
Mr McCarthy added the department's research, which he said came with a health warning, showed total exports could fall by 4% in the event of a hard Brexit.
The estimates come from a model of what a hard Brexit might mean for Ireland, which was produced by the ESRI and the department.
Chairman of the Oireachtas committee John McGuinness accused the finance officials of scaring the daylights out of business people in relation to the tariff issue.
His party colleague, Fianna Fáil's Michael McGrath, put it to Secretary General of the Department Derek Moran that it is potentially extremely serious, to which Mr Moran nodded in agreement.
Mr Moran also confirmed there is a unit within his department, comprising four people, that has been set up to deal specifically with Brexit-related issues.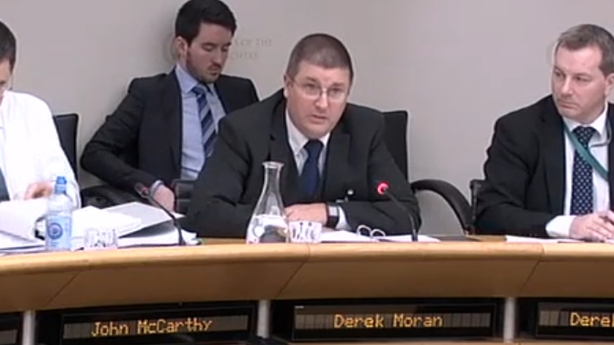 He said the unit had a coordinating function across the department and that it had been up and running for six months.
Asked what preparations had been done in advance of Donald Trump's presidency, particularly in relation to corporation tax, Mr Moran said indications from the US were that anything from radical reform to nothing happening could be expected.
He added if something happens in the corporate space, it was expected to happen in the first six to 12 months of the new presidency.
Fianna Fáil Spokesperson on Finance Michael McGrath said the figures from the department underline the "extremely serious threat posed to our economy by the hard Brexit scenario".
Mr McGrath said: "We now know that the UK will leave the EU Single Market and most likely the Customs Union also.
"This will have potentially grave consequences for Ireland in terms of exports to the UK, economic growth, employment, our public finances and the national debt.
"It is also becoming abundantly clear that our own Government does not seem to fully grasp the scale of this challenge.
"It is shocking to learn that the Department of Finance's Brexit unit comprises just four people.
The Department of Finance is responsible for shaping our economic strategy and has a central role to play in designing and implementing our response to Brexit," he added.