Toshiba's financial crisis deepened today as media reported it may unveil a bigger than expected $6 billion writedown for its US nuclear business, sending its shares sliding 15%.
The reports cast doubt on whether steps by the scandal-hit conglomerate to bolster its finances will be sufficient to address the shortfall.
These plans include the possible sale of a stake in its core chip business to business partner Western Digital.
Toshiba executives sat down with representatives from some of its main banks today to discuss possible support, sources with knowledge of the matter said.
The 142-year old firm has also approached the government-backed Development Bank of Japan (DBJ) for help.
Takeshi Kunibe, the president of Sumitomo Mitsui Banking, one of its main banks, told a briefing the lender would like to support Toshiba as much as possible.
Battered by an accounting scandal in 2015, Toshiba was plunged back into crisis late last year after it emerged that it would have to write down cost overruns at projects handled by a US nuclear power plant construction firm recently acquired by its Westinghouse division.
Sources familiar with the matter had previously flagged the size of the expected charge at more than 500 billion yen ($4.4 billion).
Kyodo news agency and other domestic media said that estimates had now ballooned to 700 billion yen, partly due to unfavourable currency rates.
Toshiba declined to comment on the its plans for meeting with banks, and said it had yet to determine the size of the writedown.
Put on the Tokyo bourse's watchlist after the accounting scandal, the laptops-to-nuclear conglomerate is not able to tap equity markets for funding.
It has said it is looking at splitting off its chips business - which accounts for the bulk of its operating profit - into a separate company.
It wants to sell a minority stake in the memory chip business and is considering potential buyers including Western Digital, a source familiar with the matter said this week.
Media reports have put the size of that stake sale at around 20%.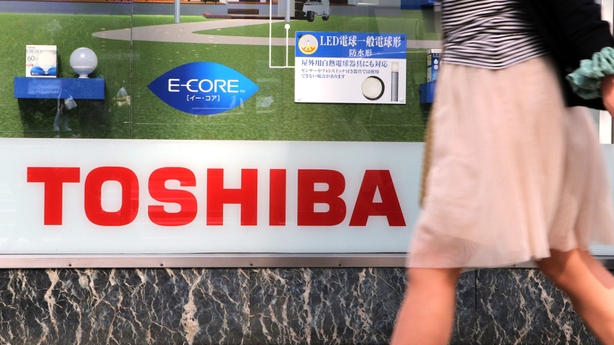 Toshiba's chips unit could be worth more than 1 trillion yen ($8.9 billion), industry sources have previously said.
Western Digital, a US-based data storage company operates a NAND flash memory plant in the city of Yokkaichi in Mie prefecture with Toshiba. It has declined to comment the issue.
Analysts said they did not expect Toshiba to default on its debt as its main banks would stick by it, adding that some sort of package involving asset sales, financing and capital from the government would likely be arranged.
Shares in Toshiba slid as much as 26% in earlier trade today, but pared losses to finish 15% lower.
National broadcaster NHK said that Toshiba, which employs almost 190,000 people in businesses ranging from washing machines and elevators to sewerage plants and batteries, was looking to sell some units and other assets to raise 300 billion yen in cash.
The Japanese industrial giant may, however, struggle to find buyers for businesses such as its loss-making PC and TV units.