Deutsche Bank has decided to cut bonuses drastically as it struggles to turn a profit and faces a big bill for litigation. 
Germany's biggest lender has finalised a $7.2 billion settlement with the US authorities over its sale of toxic mortgage securities in the run-up to the 2008 financial crisis. (Full Story) 
"Now that we have a clearer idea of the financial impact of the settlement with the US Department of Justice and our performance for the year, we feel that tough measures are unavoidable," Deutsche Bank's chief executive John Cryan said in a letter to staff today. 
Shareholders applauded the bonus cuts, which will hit about a quarter of Deutsche's roughly 100,000 staff. 
"They are a necessary step in the longterm recovery of Deutsche Bank - just as the cancellation of the dividend is," Union Investment fund manager Ingo Speich said.
He added that Deutsche Bank would not be able to meet bank capital rules if it spent a lot of money on bonuses.
Another top investor said that Deutsche Bank needs to cut costs and the same time retain staff in order to benefit from an expected upturn in investment banking. 
"Cutting bonuses after a bad year is better than laying off too many of the staff you will need to win business," the investor said, adding that Deutsche Bank on the other hand still had capacity to cut 5,000 backoffice staff. 
Deutsche Bank's management board has decided to waive its own bonuses for 2016, Cryan said. 
Employees with the titles of vice president, director and managing director will get no 2016 bonus, but will be offered a retention package. 
The retention packages will consist of completely deferred share awards for directors and managing directors, people close to the matter said.
Vice presidents will receive half deferred shares and half deferred cash payments, they added. 
If Deutsche Bank's share price fails to recover by 30% within the next three or four years - depending on the individual awards - the awards will be canceled, they said. 
A small number of staff in crucial positions for the further success of the bank will get long-term incentives, partly in the form of shares, which will be deferred up to six years, Cryan said. 
"We have taken this tough decision because it is the right thing to do," he said, adding the bank planned to return to its normal compensation programmes for the year 2017.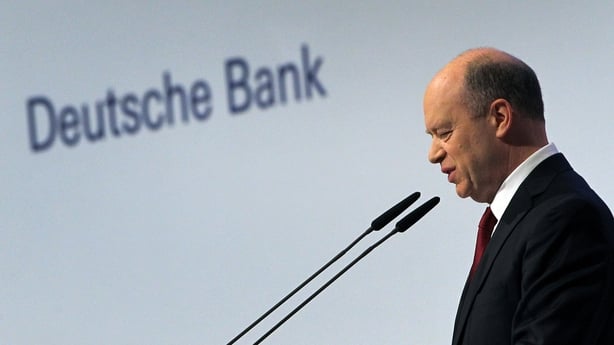 As part of a new remuneration policy to discourage excessive risk taking, Deutsche Bank has significantly increased the fixed part of salaries over the last couple of years.
Earlier, Deutsche Bank said it will be free to focus on a new growth strategy instead of devoting most of its energy to cleaning up past mistakes. 
"Given other lawsuits, it is still too early to talk of having drawn a line under all matters," John Cryan said. 
"We are, however, nearing our objective of being able to concentrate primarily on the future instead of repeatedly having to look over our shoulders at past events," he added. 
Germany's biggest bank yesterday finalised a $7.2 billion settlement with the US Department of Justice over its sale of toxic mortgage securities in the run-up to the 2008 financial crisis. 
Combined with an earlier $1.9 billion settlement with US government-controlled Fannie Mae and Freddie Mac, America's biggest providers of housing finance, the total bill for the mortgages issue stands at $9.1 billion. 
Deutsche agreed with the department to a statement of facts that describes how it made false and misleading representations to investors about the loans underlying billions of dollars worth of mortgage securities it issued in 2006 and 2007.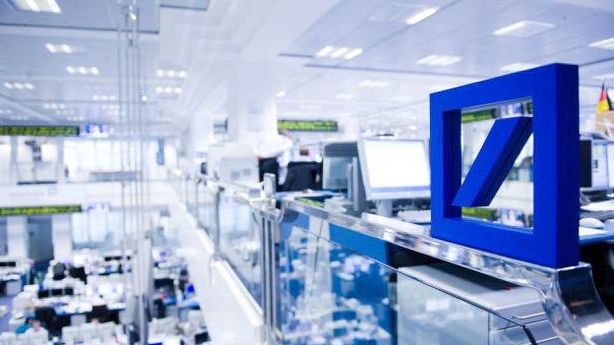 "Ultimately, Deutsche Bank enriched itself by paying reduced prices for risky loans while representing to investors valuation metrics based on appraisals the bank knew to be inflated," the statement said. 
With the US mortgages case out of the way, three main litigation cases remain - a probe into suspicious equity trades in Russia, investigations into alleged foreign exchange manipulations and alleged US sanctions violations. 
All three are expected to result in manageable costs. 
The bank remains hopeful of reaching a deal on Russia by March and booking the case retroactively in its 2016 accounts while paying significantly less than the €1 billion it has provisioned, people close to the bank have said. 
The US mortgages settlement gives Deutsche Bank breathing space to refine its strategy, with an update likely to be presented to investors in spring and after an expected accord of international banking supervisors on new capital rules. 
Regulators had planned to strike a deal on the future capital rules - dubbed Basel IV - by early January.
But they have now postponed a decision until March as they struggle to find a compromise between European and US interests.  
The capital rules will determine whether Deutsche Bank can afford to reintegrate its retail unit Postbank, which it had put up for sale to lift its capital ratios, but would prefer to keep, the people close to the bank said.