Goods imports into Ireland jumped by €938m, or 18%, between October and November to €6.2 billion, according to new figures from the Central Statistics Office.
Exports for the same period fell by 1% to €10.2 billion, which resulted in a reduction of €995m in the trade surplus to €4 billion.
The value of goods exports for the year to November 2016 was €107.9 billion, an increase of €4.8 billion on the same period in 2015, while the value of goods imports rose by €813m to €63.9 billion over the same comparative period.
The CSO data also show medical and pharmaceutical products exports increased by €739m (+28%) to €3.4 billion in November on an annual basis, while exports of electrical products jumped by 152% (€424m) to €703m, and food & live animal exports were 6% higher to €945m.
On the imports front, there was a 15% yearly drop in the value of car imports in November to €367m, while imports of medical and pharmaceutical products increased by €428m (+82%) to €952m, and imports of petrol increased by €89m to €308m.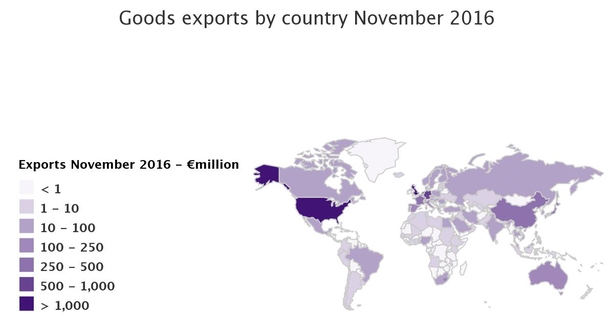 The European Union accounted for half of Irish exports in November, with €5.5 billion of goods transported to other member states.
€1.6 billion of this was exported to Great Britain, and €1.3 billion to Belgium.
The USA was the main non-EU destination, accounting for €2.9 billion of total exports in November.
Irish exports to the EU rose by 2% annually in November, while non-EU exports were 14% higher.
With regard to imports, 55% or €3.6 billion came from the EU, with €1.4 billion of that accounted for by Great Britain.
The USA with €1.3 billion (21%) and China with €441m (7%) were the main non-EU sources of Irish imports.
Imports from the EU decreased by 6% in November compared with November 2015, while non-EU imports increased by 23% over the same period.